Freebie Friday Roundup: Part 3
Every other Friday, we bring you something brand new– and this week is no exception. It's time for another Freebie Friday roundup, where we give away all our latest freebies in one convenient package. Bundled exclusively with this package is a beautiful app login screen that we'd love to share with you.
Scroll down to see all the PSDs and to download the app login screen.
Tactile UI Kit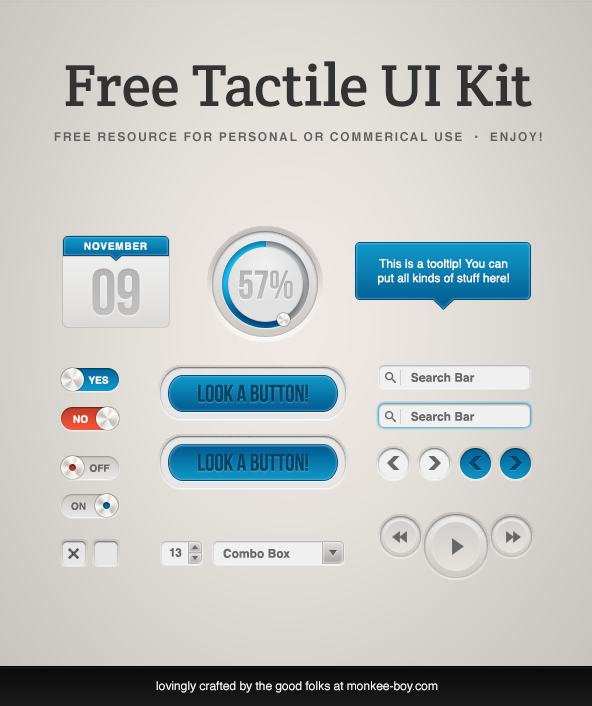 10 Large Blurred Backgrounds
Almost Flat Dark UI Pack
Glassy Login & Registration Forms
Tablet Friendly Almost Flat UI Kit
Get all 5 free PSDs, plus the bonus Progress Bar PSD. It features updates on our blog, including brand new free PSDs, and the most important news from around the web. Thanks and enjoy!
You can also check out our roundup 1, and roundup 2 or our Freebie Friday Pinterest Board.
Freebie Friday: 4 Clean & Crisp City Actions
It's Friday, which means we're back with another one of our Freebie Fridays!This is our first set of PS actions released, and as such we wanted to explain it, as it's a bit different than our normal freebies. If you're not familiar with actions, it's a set of commands saved in sequence, so you can open any photo, hit "go" and the photo edits will occur. We've set all these up for non-destructive editing, which means all effects are in layers grouped above your original photo...
Read more
Freebie Friday: 25 Colorful Polygon Backgrounds
Happy Friday, crew! We're so glad to back in the swing of things with our regular releases of Freebie Fridays. We're loving the recent geometric trends we've seen around the web this year, and wanted to join the party with a release of our own. Each of these colorful polygon backgrounds is 1600px x 1600px and in .jpg format, ready for dropping in your next design project. Of course, these patterns are absolutely free for personal & commercial use. Use, enjoy, and share with your friends.
Read more