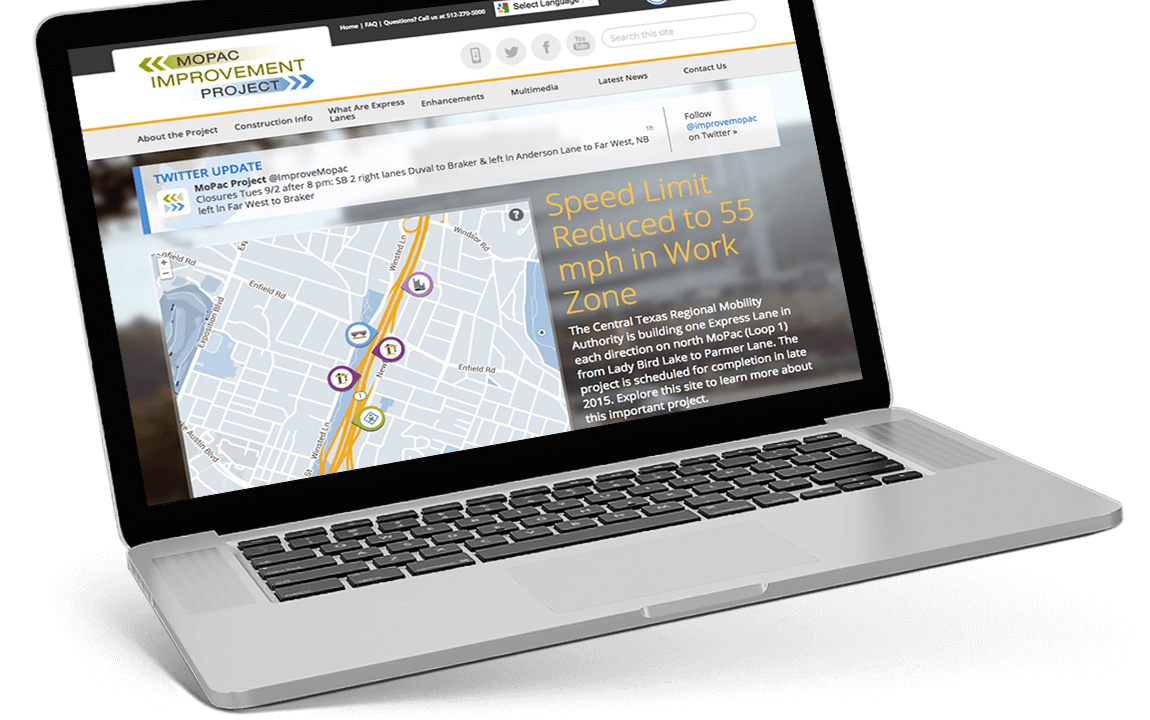 Visit the Site
CTRMA - MoPac Express
Engagement
81%
increase in new web site visitors
Interest
74%
increase in pages per visit
Engagement
25%
Reduced Bounce Rate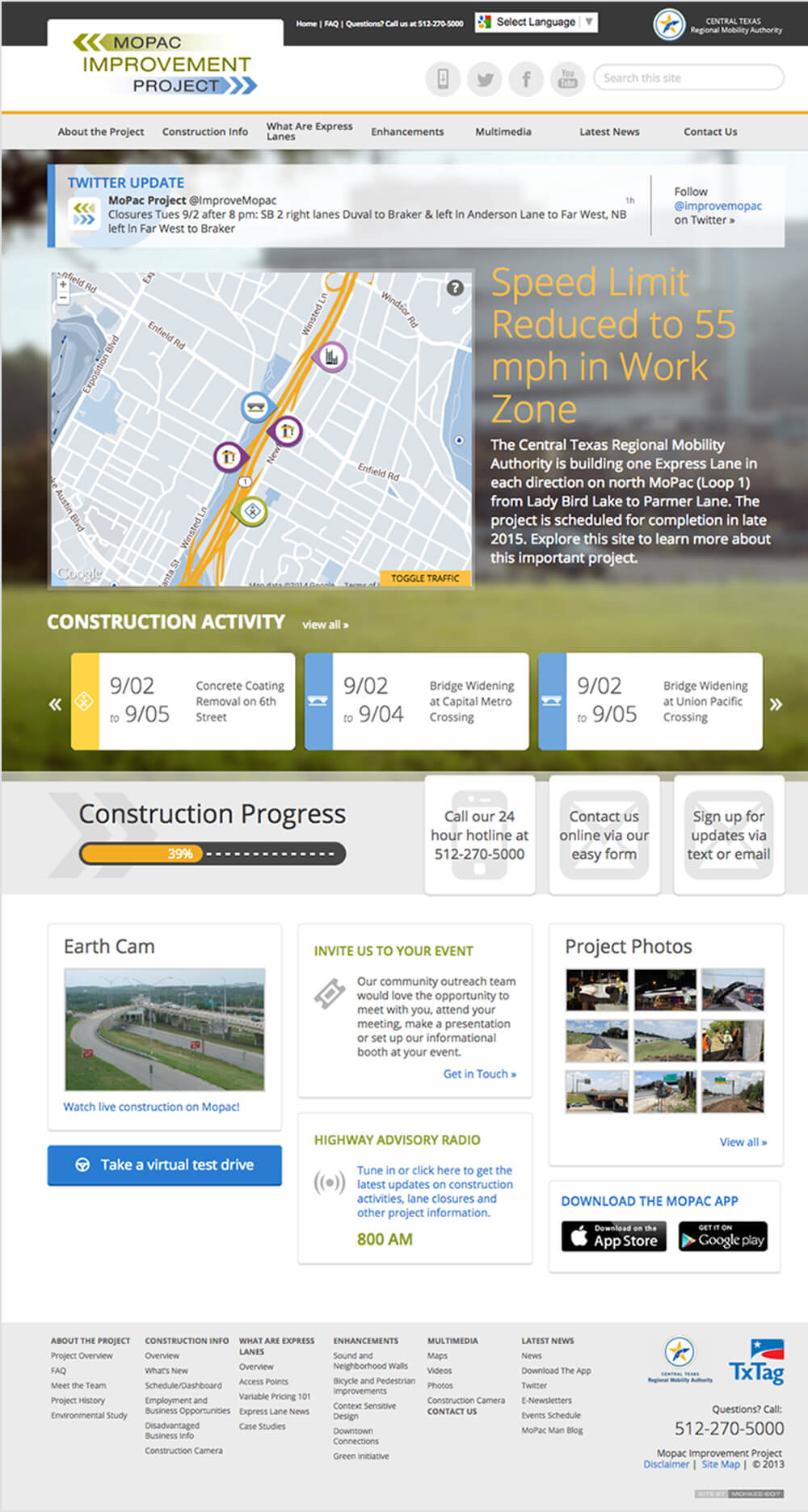 Cutting Edge Mass Transit Project
The MoPac Improvement Project adds express lanes to Austin traffic on the stretch of MoPac Expressway between Cesar Chavez and Palmer Lane. With the construction came a great responsibility to keep residents informed on construction updates and project progress. To help streamline awareness, engagement, and minimize resident frustration, the MoPac Express website and mobile app were designed and developed to be the go-to resources for information about the project.
Fully Responsive Site
The solution was created through Monkee-Boy's robust Diagnostic Strategy process, resulting in a 102% increase in overall visits, a 97% increasenew visitors, and a 100% increase in return visitors. To sum it up, it's working and working VERY well!
Robust Digital Strategy
The MoPac Express project is leading the way in how large-scale transportation projects are digitally managed. Through Monkee-Boy's proven Diagnostic Strategy process, all business, user and staff needs were address to create a cutting edge system for CTRMA to easily keep the site update and communication high.
The results speak for themselves through a 74% increase in pages per visit, a 81% increase in time their users spend on the site, and a reduced bounce rate of 25%.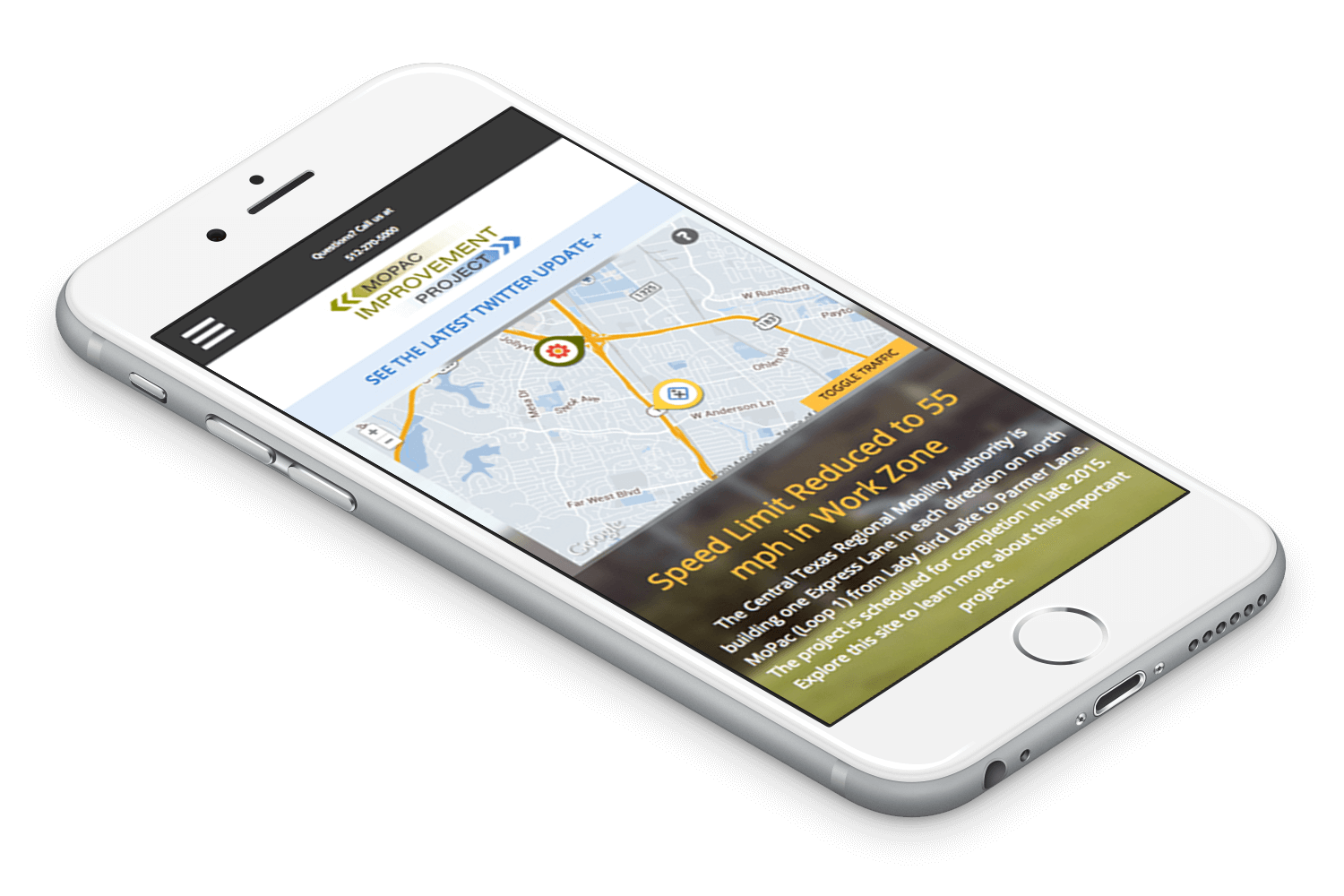 Advanced API Integrations
Sometimes you need to connect two or three great pieces of functionality together to develop the best solution. To help assist with the communication efforts, Monkee-Boy built advanced functionality for CTRMA by elegantly tying Google Maps, MailChimp's, Twilio and Urban Airship into one elegant system to power the site and mobile app quickly and efficiently.
Custom Iconography
To help easily communicate the different type of construction activity, Monkee-Boy developed a holistic set of project icons and colors which to be used across both the site and mobile app. Through the elegant use of intuitive, custom designed icons, travelers can easily see what type of activity is expected, where it is going to happen and when.
Streamlined Communications
One CMS to rule them all? Sounds like a great idea! Monkee-Boy worked closely with CTRMA staff to plan and craft a custom CMS solution that would not only help staff manage the website content, but also allow them to streamline the construction and project communication through the website site, email, text notification, and push notification to the highly acclaimed Mopac Express mobile app.