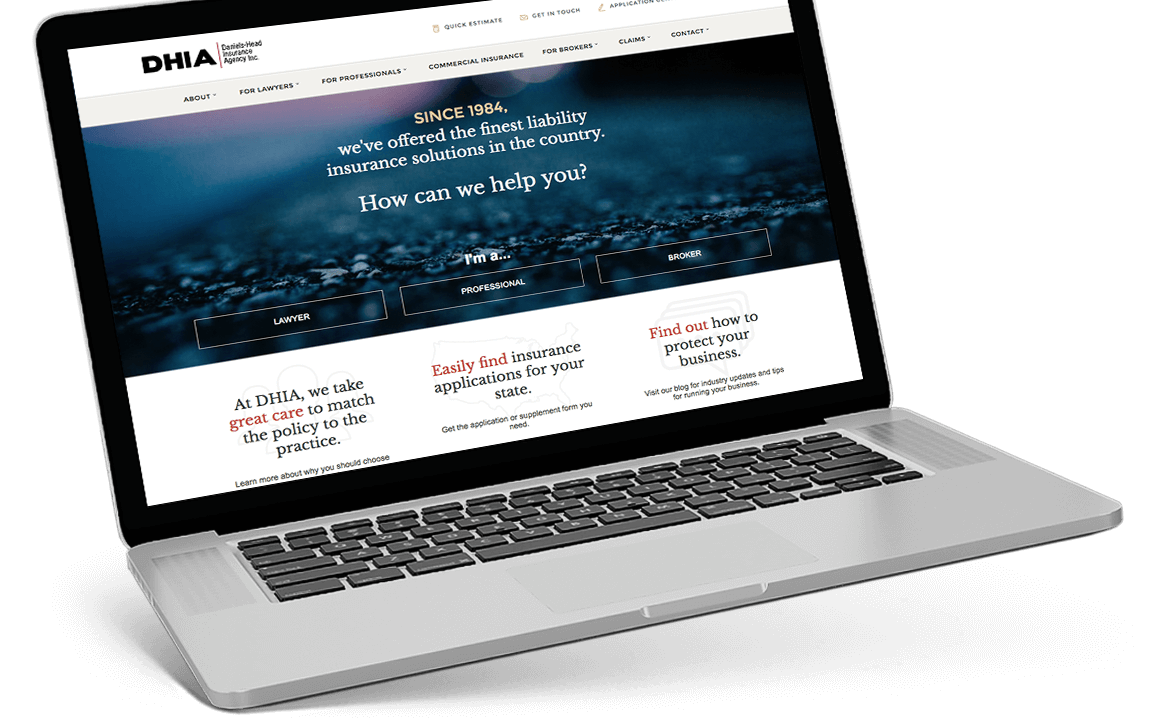 Visit the Site
Daniels-Head Insurance Agency (DHIA)
Search Engine
81%
Increase in Organic Traffic
Mobile
359%
Increase in Mobile Users
User Experience
77%
Increase in Session Duration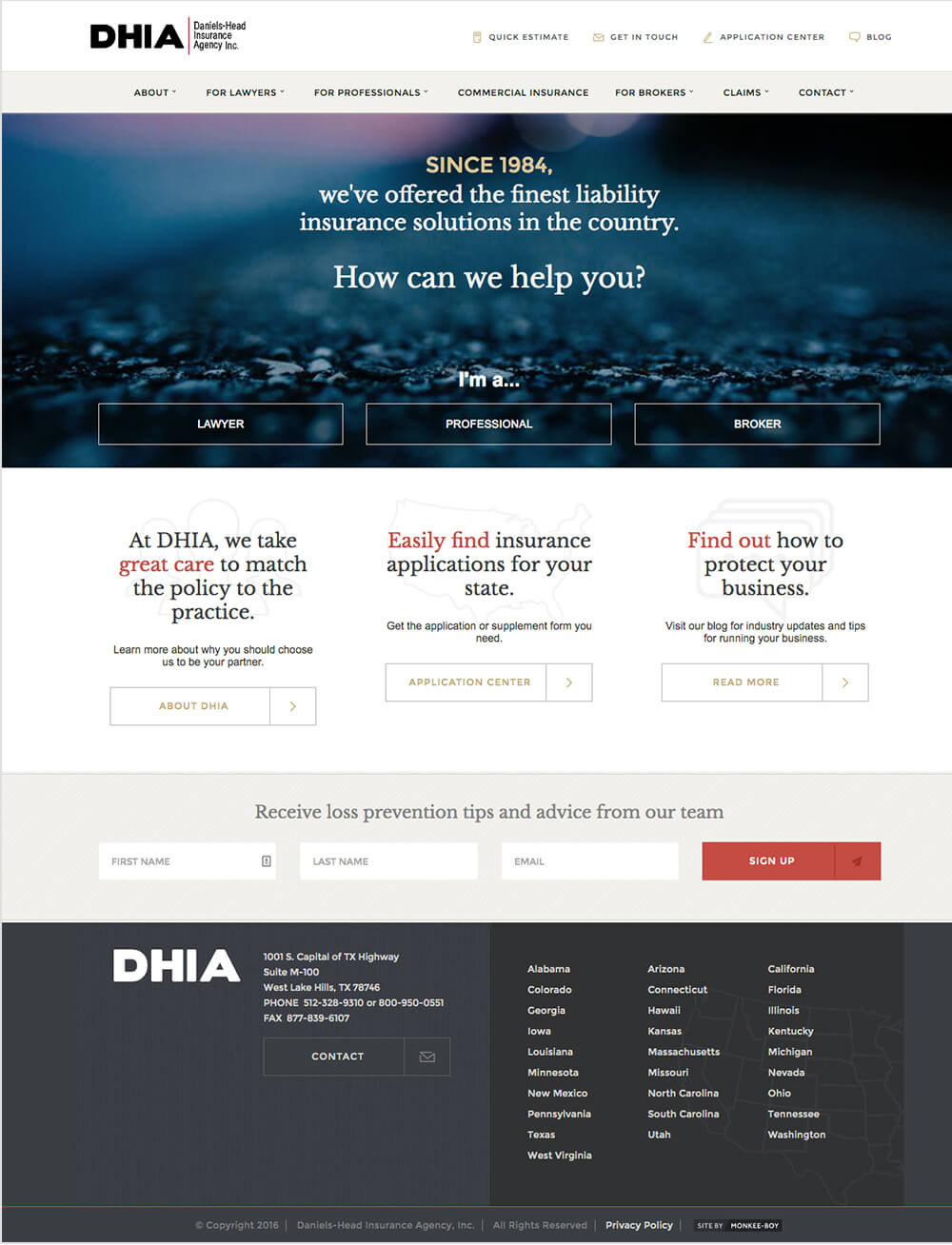 About Daniels-Head
Daniels-Head Insurance Agency (DHIA) offers the finest liability insurance solutions in the country and has been doing so since 1954. With aspirations of revolutionizing how liability insurance is found, quoted, and sold, DHIA looked to Monkee-Boy to help find the path forward. The initial phase of the project revolved around establishing a new fully responsive solution, building a robust resource center to show DHIA's full suite of solutions, and improving the online conversion process.
Robust Digital Strategy
For the DHIA project, Monkee-Boy had to think short term and long term, laying the groundwork for simple site management and immediate increases in SEO, but also ensuring that foundation could support the next year's worth of custom development. To ensure no feature fell short, Monkee-Boy relied on it's proven Diagnostic Strategy to dig deep and ensure all audiences were could be supported from Phase 1 to Phase 100.
Responsive Site Design
With DHIA's current clients and potential prospects being very technologically savvy, it was critical to create a fully responsive site. The new site is built to allow users to easily view DHIA services, coverage areas, and easily request a quote from any device, anywhere.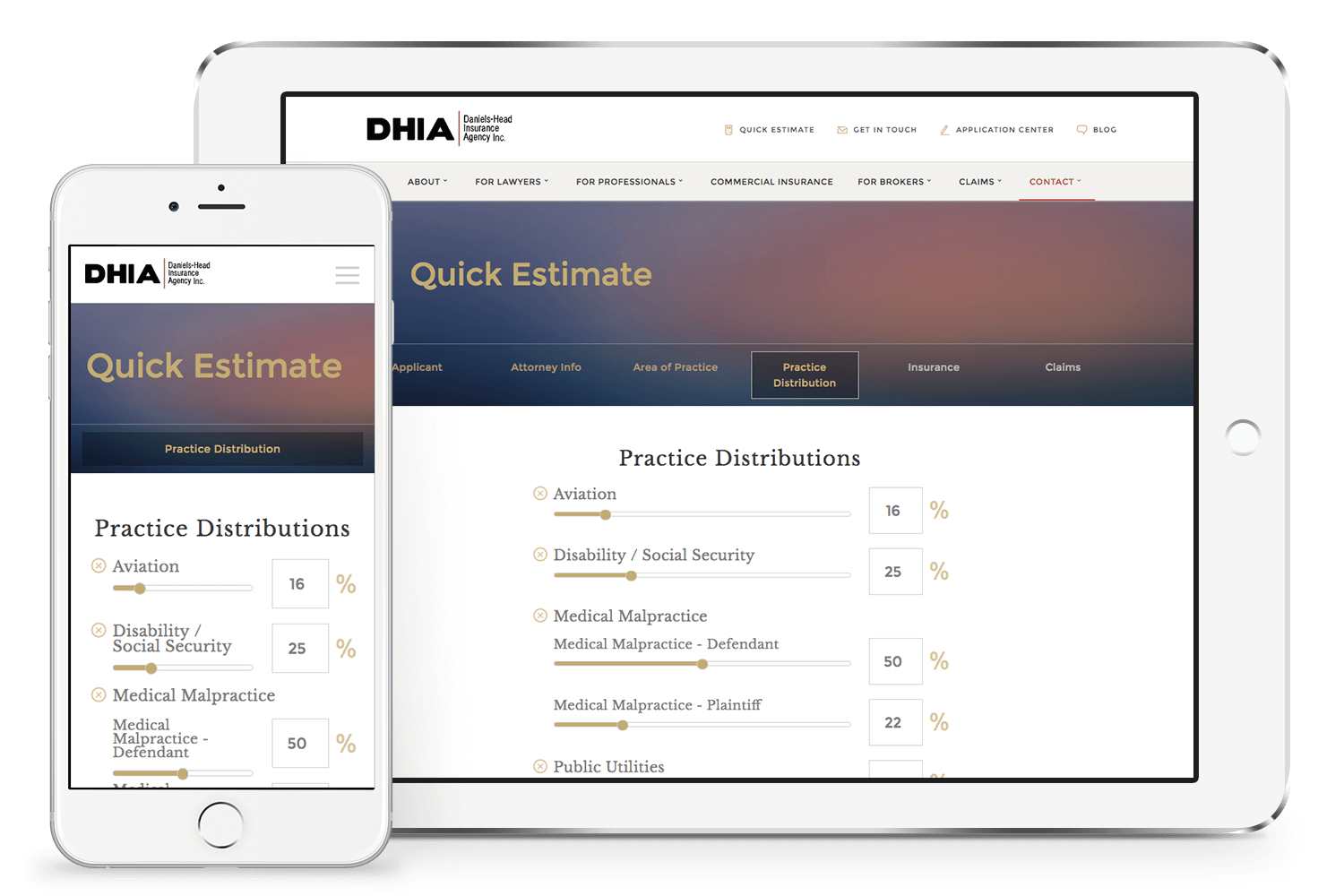 Fully Custom CMS
The launch of the new, fully responsive DHIA.com was only the first step in taking insurance quoting and purchasing to a previously unforeseen level. To allow for the growth and enhancements needed to build a one-of-a-kind lead generation and payment portal, Monkee-Boy had to use its custom MBoy CMS for the job. #nailedit
Comprehensive Application Center
Finding the right application or supplement across industry AND state was challenging for DHIA users. To help streamline the process and get the right applications in the right user's hands, Monkee-Boy created a robust application center allowing the user to easily filter by policy type and state.
Interactive Region Map
DHIA offers polices in the vast majority of the US, but policies vary widely from state-to-state. To help target users quickly find the policy that is right for them, Monkee-Boy created an interactive US map to easily allow the user to take the first step. The map also underscored that DHIA was a national business, not limited to its deep Texas roots.
User Proof Coverage Calculator
One of the most challenging parts of the intake process for DHIA was receiving leads with incomplete coverage percentages. In a nutshell, their users had a hard time accounting for 100% of their needs. Monkee-Boy to the rescue! Through a very simple and straightforward approach, DHIA's new prospects could easily select the coverage areas that applied and then list the percentages needed. If the numbers didn't add up, they could then easily know where they needed increase and decrease their percentages through very easy to use sliders. Helps the users, helps DHIA - win/win!