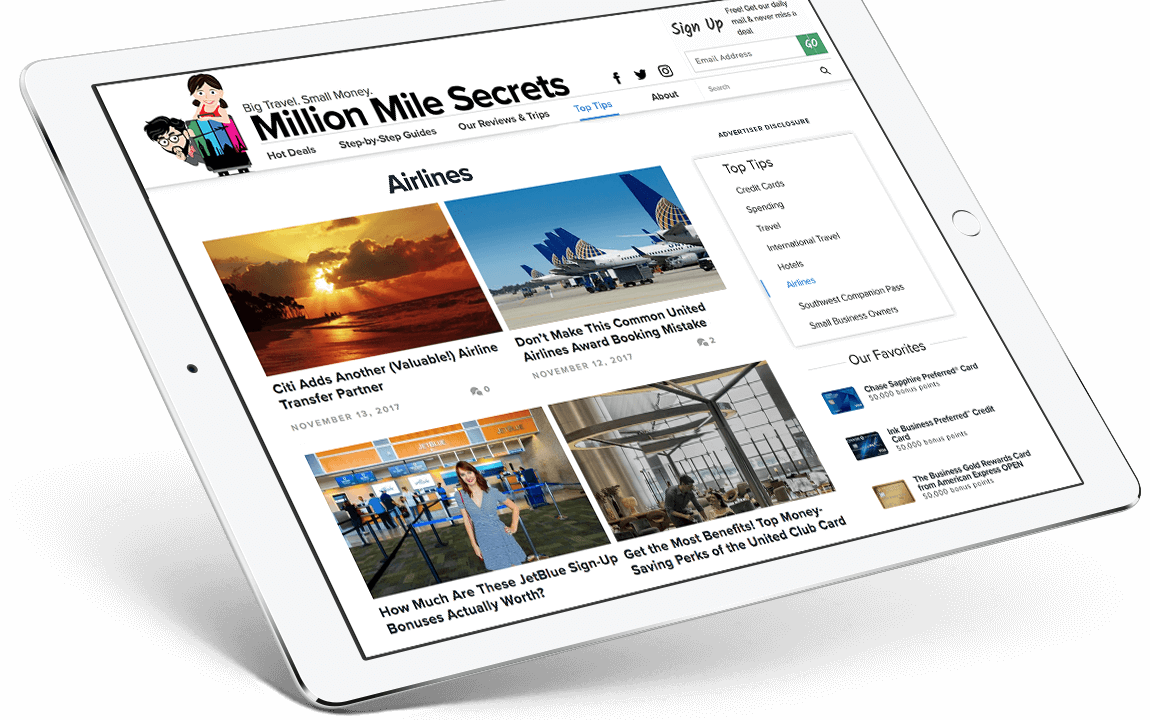 Visit the Site
Million Mile Secrets
Mobile
166%
Increase in Mobile Users
User Experience
47%
Increase in Page Views
Interest
15%
Increase in New Visitors

About MMS
Million Mile Secrets is a one-stop shop to learn how to travel the world for less by using credit card points, airline miles and hotel rewards. With over 40,000 daily readers and almost 250,000 followers on Facebook, Million Miles Secrets is an authority in the travel industry, having been featured in The New York Times, Forbes, U.S. News & World Report, CNN, Business Insider and Money.
Million Mile Secrets came to Monkee-Boy to create a newly-designed site that would impress their avid users and welcome newcomers as well.
Diagnostic Strategy
With more than 6,000 blog posts (and counting!) the Million Mile Secrets site had an incredible depth of content and high daily traffic. Monkee-Boy worked hard to determine ways to cater to both the loyal returning readership, as well as those who are new to the world of miles and points. Our team identified ways to help these unique audiences, in addition to eliciting requirements for custom tools, necessary plugins and integrations for everything combined.
Responsive Design
Having a site that is not only visually appealing, but also easy to navigate on mobile was a major priority for Million Mile Secrets. With their wide, and often international, audience they needed a site that would load quickly, even on weak or inconsistent networks, and provide an optimal experience regardless of device.
WordPress CMS
The Million Mile Secrets team had been maintaining a WordPress site prior to the redesign, and it was critical for the new site to fit into their existing process seamlessly. Not only did Monkee-Boy develop a custom WordPress theme to achieve the new look and feel for the redesigned site, but also migrated over all necessary content, plugins, and their settings to allow for a smooth transition and no disruption to the team's workflow.
Custom Credit Card Display
With a focus on miles and point, the site obviously contains information on various credit cards and their benefits, terms, and details. Monkee-Boy worked with the Million Mile Secrets team to determine a display for this information that was approachable and straightforward, while maintaining compliance standards and integrating with a feed for the information.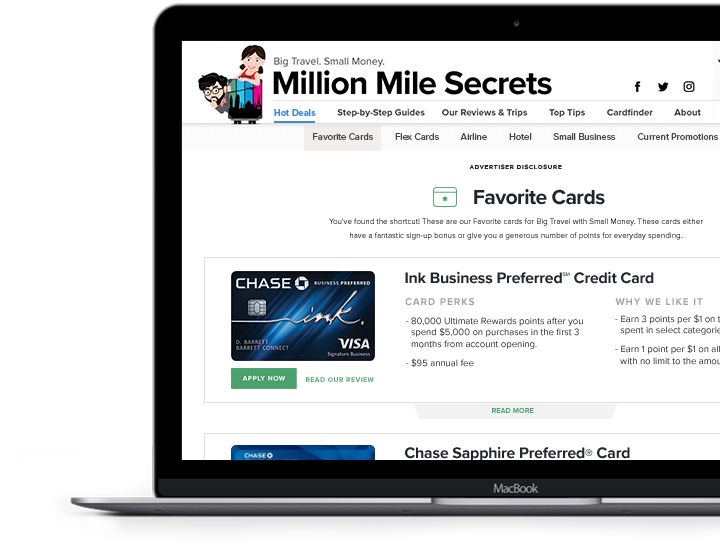 Hot Deals For Days
Another important aspect of the site is the deals and insights Million Mile Secrets can offer. These change quickly and need to be easy for their team to update, reorder and add. Monkee-Boy created a custom WordPress tool to allow them to keep everything organized. On the front-end the design was fun and engaging. This element was also incorporated in multiple parts of the site for consistency and broader inclusion.