Web Development
Custom WordPress CMS Development
We are experts in building custom, high-performance WordPress websites.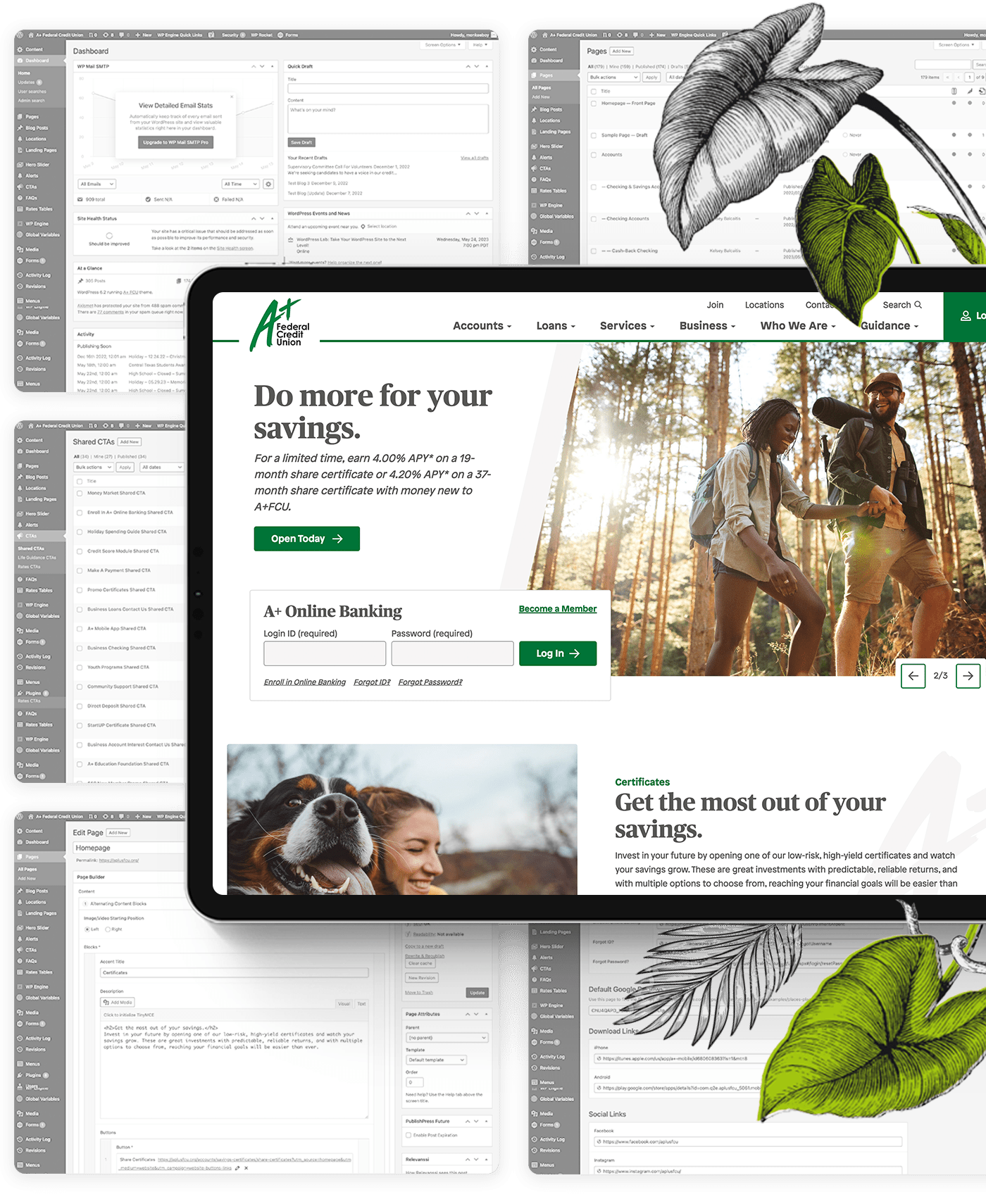 WordPress is the most beloved open-source CMS on the planet and for a good reason. It's nimble, quick, and can handle most business needs. When open-source is a requirement, we turn to WordPress to deliver.
All web development services are completed 100% on-site, in-house, on time, and to spec.
We build BIG websites.
Monkee-Boy's superpower is delivering large WordPress experiences that are compelling, inclusive, and incredibly easy to manage. Most of our WordPress projects are on the larger side - ranging from 50 to 1000's of pages. If you care about quality, hunger for a website that fits your organization like a glove, and want to remove the pain of ongoing website management, look no further.
We build small-to-medium websites, too.
Accessible WordPress sites are now within reach for non-profits and smaller businesses, too. With Mowgli, Monkee-Boy's one-of-a-kind accessible WordPress framework, small-to-medium-sized businesses can now reap the benefits of fully accessible custom websites and take the first step in building a solid foundation for future growth, stability, and business sophistication.
We focus on quality.
The best websites are those that are high-performing, accessible to all users, follow best practices, and perform well in search. The key to all of these is an intentional focus on quality. This is why we focus on custom builds. This is why we focus on web accessibility. To be honest - this is why our websites traditionally cost more and take longer than other agencies.

Quick Sidenote:
Our websites also outperform and outlast... so definitely worth it (in our minds).

Monkee-Boy is dedicated to delivering a quality experience. As such, we focus on Google's PageSpeed Insights' four key quality metrics (Performance, Accessibility, Best Practices, and SEO) with every project to build sites how Google is measuring, show independent proof that your investment was well spent, reduce risk, and guarantee a quality experience.
Custom integrations? We got you.
Our development team has a deep bench and over 50 years of collective experience. As such, they can handle pretty much anything you can throw at them, including advanced integrations with APIs, CRM systems, SaaS products, e-commerce, and more.
We support what we build.
To help support your investment in WordPress development, our dedicated maintenance team is happy to handle all major and minor updates to WordPress and its plug-ins. Where appropriate, we are incredibly skilled at proactively safeguarding your digital investments so you can focus on all of the other 20 hats you must wear daily.
Secure WordPress Hosting
Monkee-Boy is a trusted Agency Partner with two of the best hosting providers in the world.

WP Engine
WP Engine, located right down the street from us in Austin, TX, is the global leader in WordPress hosting & managed services. Monkee-Boy has been a WP Engine Agency Partner for almost five years and has helped organizations of all sizes (from SMBs to Fortune 100 companies) get up & running with WP Engine's top-notch security & web services. Monkee-Boy also serves as a WP Engine liaison for organizations and can be the central point of contact for ongoing WP Engine management, security, and site maintenance.

Platform.sh
If your organization is searching for TX-RAMP-certified hosting for a Texas DIR project, look no further. Platform.sh is Monkee-Boy's go-to choice for TX-RAMP Level 2 Certified hosting and provides all of Monkee-Boy's DIR organizations with a safe and trusted place for their WordPress websites. Monkee-Boy is a Platform.sh Agency Partner and can help your organization find the perfect WordPress hosting solution.