Website Development
Monkee-Boy's web development is completed 100% on-site, in-house, on time and to spec. We focus on the LAMP stack (Linux, Apache, MySQL, and PHP) – widely considered as one of the most popular open-source web platforms for the development and deployment of high performance, scalable web sites, and applications.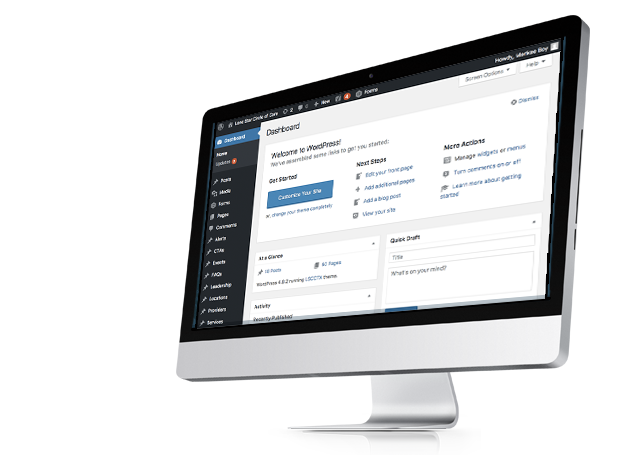 Custom WordPress CMS Development
WordPress is the most beloved open-source CMS on the planet and for a good reason. It's nimble, quick, and can handle most business needs. When open-source is a requirement, we turn to WordPress to deliver.
We build BIG websites.
Monkee-Boy's superpower is delivering large WordPress experiences that are compelling, inclusive, and incredibly easy to manage. Most of our WordPress projects are on the larger side - ranging from 50 to 1000's of pages. If you care about quality, are looking for a new experience that fits your organization like a glove, and removes the pain of ongoing website management, look no further.
We focus on quality.
The best websites are those that are high-performing, accessible to all users, follow best practices, and perform well in search. The key to all of these is an intentional focus on quality. This is why we focus on custom builds. This is why we focus on web accessibility. To be honest - this is why our websites traditionally cost more and take longer than other agencies.

Quick Sidenote:
Our websites also outperform and outlast... so definitely worth it (in our minds).

Monkee-Boy is dedicated to delivering a quality experience. As such, we focus on Google Lighthouse's four key quality metrics (Performance, Accessibility, Best Practices, and SEO) with every project to build sites the way Google is measuring, show independent proof that your investment was well spent, reduce risk, and guarantee a quality experience.
Custom integrations? We got you.
Our development team has a deep bench and collectively, almost 50 years of experience. As such, they can handle pretty much anything you can throw at them including advanced integrations with APIs, CRM systems, SaaS products, e-commerce, and more.
We support what we build.
To help support your investment in WordPress development, our dedicated maintenance team is happy to handle all major and minor updates to WordPress and its plug-ins. Where appropriate, we are incredibly skilled at proactively safeguarding your digital investments so you can focus on all of the other 20 hats you have to wear each day. Additionally, if you're looking for secure WordPress hosting, please let us know. Monkee-Boy's dedicated Habitat Server might be the perfect place for your WordPress site, too.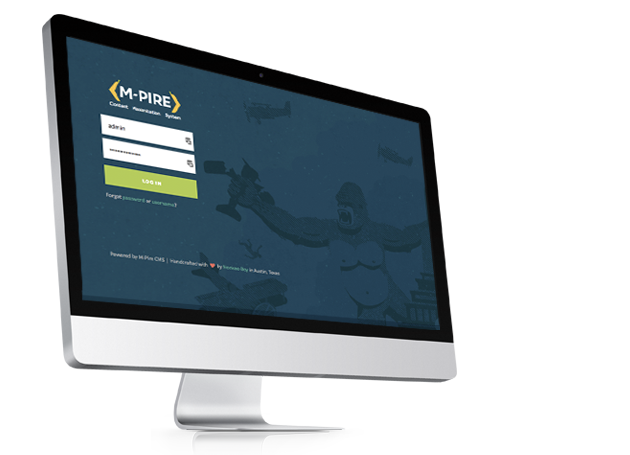 M-Pire Enterprise CMS
Looking for something fully custom?
WordPress is fantastic - if you haven't noticed yet, we can build some pretty amazing things with it. There are times, however, when WordPress and other open-source CMSs may not be the right tool for the job. If you think your business needs a custom solution to get it where it needs to go, our M-Pire Enterprise CMS might be a good fit.
M-Pire (lovingly named after the tall NYC building that King Kong dominated!) is a custom-built content management system, developed on CakePHP – one of the most widely supported open-source PHP development frameworks. Trusted by multi-million dollar organizations across the United States, and developed in response to the pain points and limitations associated with open-source and OTS solutions, the M-Pire Enterprise CMS allows for unlimited design possibilities, flexible layouts, crazy-advanced functionality and integrations, multiple review environments, and fewer monthly security updates (when compared to other open-source tools).
Features Include:
Contextually built navigation and tools to fit your business and business needs like a glove;
Advanced Page Builder technology to easily mix and match content types to build custom layouts that work on any page and all devices;
Advanced scheduling, publishing, and holistic management of content;
Dedicated development, staging, and productions environments;
Advanced SEO capabilities (thanks to our Marketing team's input);
Automated image compression to trim the fat but keep the quality;
Two-step security (browser and CMS login);
Integration with almost any 3rd party or internal system;
A lightweight framework for quick loading;
Social media open graph functionality;
User management and privileges;
Integrated Google Analytics dashboard;
Integration with Monkee-Boy's ticketing system;
The ability to go take your business anywhere it needs to go without looking back!