Transportation Project Must Haves: The Virtual Open House (VOH)
If you're reading this, you are most likely a marketing director, public involvement officer, or business development staffer for transportation projects and are looking to better understand what a virtual open house is and why it's essential to transportation projects.
Well, you've come to the right place. Not only will we give you the 411 on what a virtual open house (VOH) is, but also we'll help you understand why they're valuable and the general best practices and considerations you should keep in mind when you are in the planning stages.
As always, if you have any questions that we don't address below, please shoot us a note, and we'll help you find your way. Let's get started.
What is a virtual open house (VOH)?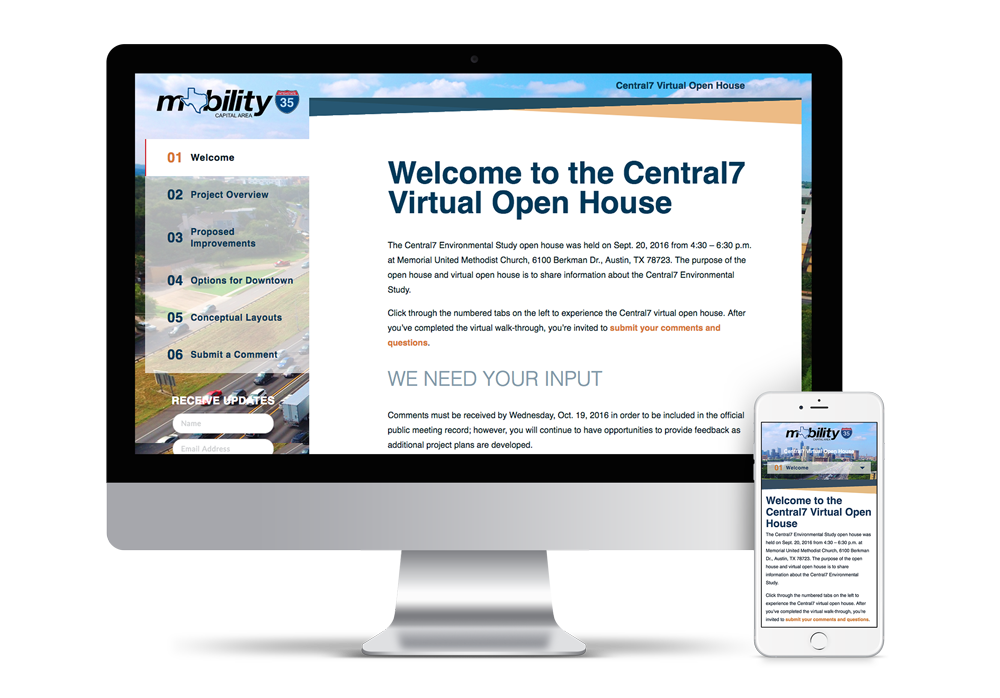 A little background...
Public involvement, as you probably know, is a core part of every major transportation project. Although this transparency is an essential ingredient in any well-planned project, it consists typically of ongoing interviews, meetings, and open conversations to discover what is or isn't working in community mobility, where improvements can be made, and ideas should be reconsidered.
In lockstep with local and state transportation authorities, public involvement officers work diligently with civil engineers to create solutions that suit the future needs of communities, projected growth, and traffic flow.
(Fast forward through environmental studies, surveys, and blueprints)
Once the plans have been reviewed and vetted, they are presented to the public for review and feedback, which generally takes place in a pre-scheduled, public setting like a cafeteria or library, customarily referred to as a "public open house."
A public open house is an opportunity to present a large quantity of project information to the public in a straightforward fashion to gather community feedback and consensus.
For a myriad of reasons, not everyone can make it to public open houses, so results and engagement can be limited, drastically reducing the size of the feedback loop. In public involvement, typically, the larger the feedback loop, the higher the results. Longterm results can be measured by having a community that is well informed, who feels like they have been a part of the conversation, and more importantly to you, decrease the amount of time fielding questions and concerns from upset constituents later in the project.
When the feedback loop and input is too small, the project stakeholders and engineers cannot get a real-world assessment of how the plans will impact the daily lives of those who will be using the roads involved in the project the most frequently.
Enter the virtual open house!
In its simplest form, a virtual open house is a well planned, organized, and designed responsive website — a digital experience that showcases the same materials found in the public open house, but in an easily digestible, online format.
When planned correctly, the VOH site dynamically responds to the constituents' devices (desktop, laptop, tablet, and mobile) and utilizes well-planned technology to easily allow users to navigate the sea of information, consume the research, consider their mobility needs, and provide feedback.
No limits on physical space exist with a virtual open house. No need to travel. No barriers to entry. No need to take notes. Virtual open houses put these projects in the hands of the end users.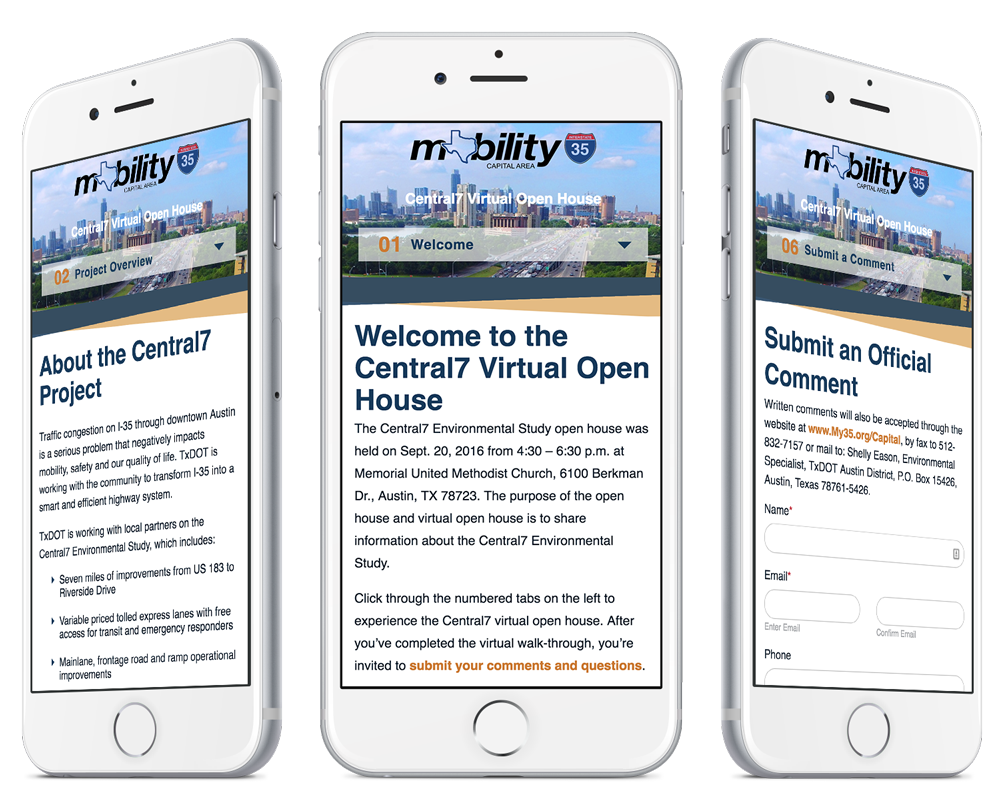 The benefits of a virtual open house
Still not convinced? Here are some reasons more and more transportation officials are choosing virtual open houses over public meetings.
Greater Reach
Unlike public open houses, virtual open houses exist in the digital space, where they can be found, digested, and engaged around the clock during the public feedback period and from the comfort of their own home, on the bus, and at a convenient time.
Helpful hint: Remember to establish the URL of your VOH well before the public open house begins. Determining the URL early will allow your team to easily promote the site to help increase both awareness and engagement. Great channels to promote your VOH include social media, radio, TV spots/local news, community papers and at the physical open house location (in case community members want to revisit the information after they have attended in-person).
Quick Updates
Unlike large printouts and physical assets, all of the content on your VOH site can change at the touch of a button. This allows your team to be nimble and move quickly if any final adjustments need to be made.
Helpful hint: When beginning your VOH project, make sure to find a qualified digital partner who can help recommend the best CMS (content management system) for the project. The right CMS can allow your team to easily make changes at any time and effortlessly export results from the feedback forms for analysis and reporting.
In-depth analytics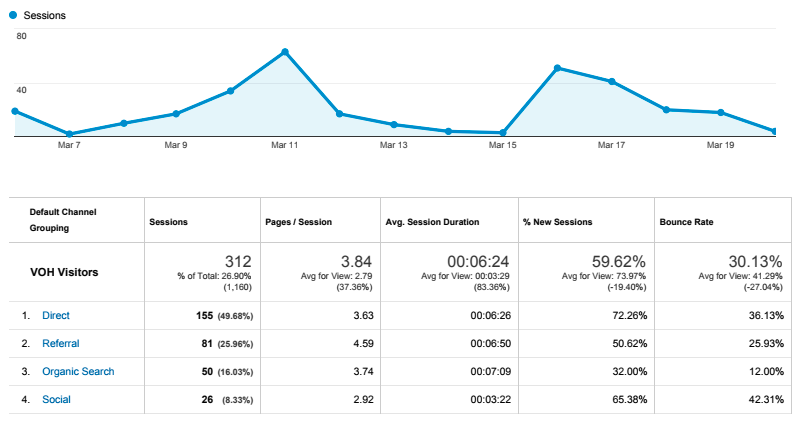 EVERYTHING, yes everything, on the web can be measured. Unlike public open houses, a virtual open house allows you to easily see how many people attended, for how long, what they looked at, what content was most engaging and interesting, where they became disinterested, and more! The data is easily at your fingertips online.
Helpful hint: If there are certain metrics and data you need for your larger stakeholders, clients, or GECs, make sure to mention these priorities to your digital partner so they can put the proper tracking components in place. This will guarantee the reports you receive are actionable and make sense.
Organized feedback
Throughout each VOH site, you can add easy-to-access input forms to collect and organize questions, feedback, and community comments. In addition, in a virtual open house, you can collect the contact information of users to ensure they are responded to and continuously included in the ongoing conversation.
Helpful hint: Feedback is normally limited to a certain time period — the same time period allocated to your public open house. To help guide online users to more proactively consume the content, we suggest including a countdown clock and listing the time periods when feedback can be submitted. This will help the community know that feedback is open, but for a limited time, and drive action.
Forward-thinking
Your VOH can expand and scale to include any functionality that comes out in the future. If you want to add chat, great! If you want a forum with your engineers, no problem! If you want to easily include video, drone footage, webinars, and more, you have the flexibility to do so that you wouldn't have at an in-person gathering!
Helpful hint: It is essential to identify all of the different types of content you'll want to include before you start your project. Cataloging and organizing your content ahead of time will ensure that your digital partner can plan accordingly and build the correct tools for your team to easily make changes down the road (pun intended). Additionally, if you're planning on having a lot of ongoing VOH', talk to your digital partner and see if they can build a reusable system to get more bang for your buck for future projects.
Getting Started
When planned correctly, a VOH program can grow to support your users and your projects in all the right ways. Stay tuned for more articles on VOH best practices in the upcoming months.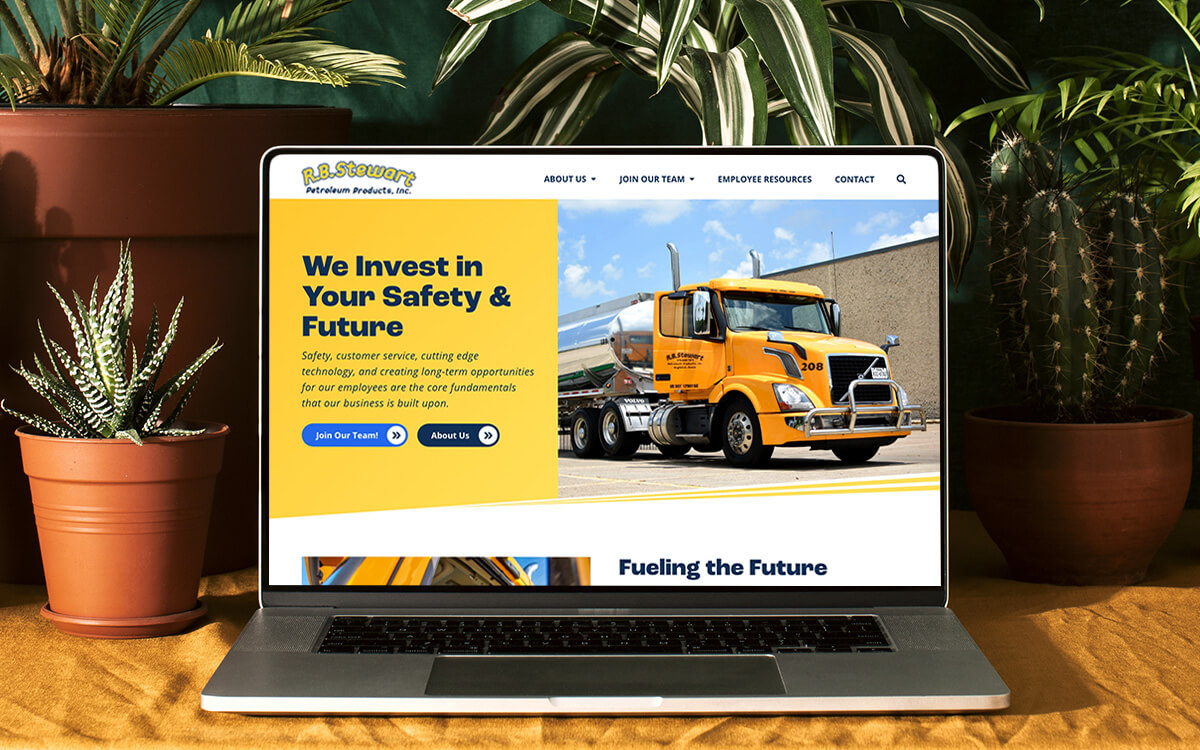 Fill 'Er Up! R.B. Stewart Launches New Accessible Website
Where does Buc-ee's fueling company turn when it's time to evolve its digital presence? You guessed it!
Read more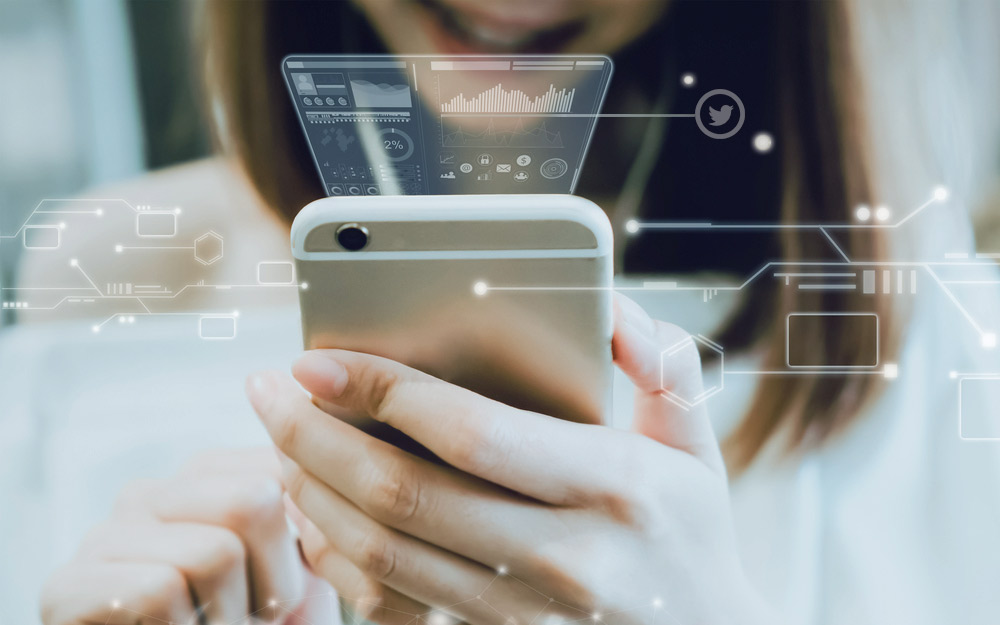 Alert & Notification Systems: Types, Tools & Kick-Ass Pro Tips
Looking to build an alert system for your upcoming project? In this in-depth article, we'll dig into the most popular options and break down the pros, cons, best practices, and all the pro tips you need to find the right solution for your next project.
Read more