6 Social Media Tips for the Apocalypse (And Other Brand Disasters)
An army of zombies! — heading your way! Quick. What do you tweet?
Most people would say, "Are you crazy? I don't tweet. I run." Unless you're this person:
But consider, for a moment, that the army is not full of zombies, but rather angry, frustrated customers on Twitter. Now, what do you tweet?
Most of the time, the conversation about how to establish a presence for your brand on social media revolves around engagement and shareability. Do your posts make an emotional connection with an audience that inspires sharing? Have you found the "right" content for your brand?
Rarely, do we talk about planning for disasters on social media.
I'm talking about the worst possible things that could happen to our businesses. Really bad stuff.
Maybe scientists discover a product gives people cancer (cough, cough, tobacco); or a CEO turns out to be a whistle-blowing spy; or a big, annual event has an unexpected line management problem that prevents customers from attending and makes them very, very angry.
The latter is exactly what happened at Austin's Fun Fun Fun Music Festival this past weekend.
From comfortably inside the festival grounds, I heard rumors of a line, an endless line, a line with no bathrooms, no food or water, a line that did not move, a line that took approximately four hours to get through and made a large group of people wish they hadn't spent $90-$200 on tickets.
Because I work in marketing, I immediately checked Twitter, Instagram, and Facebook to examine the fallout. Sure enough, the Fun Fun feeds were full of angry comments like these: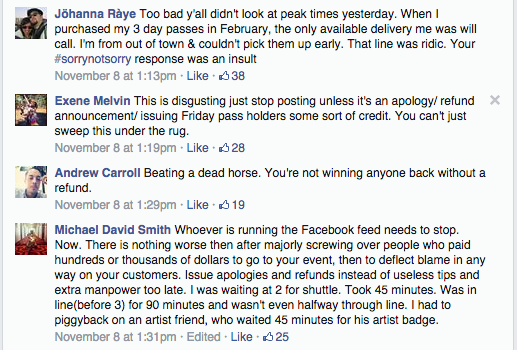 To make matters worse, though, the staff managing these accounts seemed totally unprepared for disaster. For a few hours, at least, they attempted to handle the line vitriol while simultaneously posting about how much fun everyone was having inside! As you can see, these "fun" posts only added fuel to the fire.
It's very simple to say that organizers should have stopped posting according to their regular "fun fun" schedule to focus instead on the line, but I can't blame them for not doing so in the heat of the moment. When nothing seems to be going right, you can't see the big picture.
That's why pre-planning for disasters can be so valuable for your social media team. Preparing ahead of time ensures that everyone knows exactly what to do when the worst happens.
Here are some tips to help you survive your brand apocalypse (may it never happen to you!).
1. Prepare for the worst.
I don't just mean you should contemplate potential disasters in the shower -- in a far out hypothetical way. I mean you should hold a meeting. Get your team together and brainstorm the worst possible things that could happen to your company on social media, and then come up with solutions. It was pretty clear that the Fun Fun Fun organizers had not entertained the possibility of a four-hour line, so when it happened they were unprepared in real-life and on social media.
2. Respond Quickly
Fun Fun Fun actually handled response time pretty well during "Linegate," but not every brand has such a quick trigger. Remember, 10-15 minutes can seem like an hour to a frustrated customer. The faster you can connect with people, the easier it will be to solve their problems. Make sure you have an efficient system in place for identifying problematic messages on social media. For example, if you don't get a lot of @ mentions on Twitter, email reminders from Twitter might be sufficient. If your brand often engages with tons of different people online, you'll want to use software like Mention to help you filter the negative from the positive and prioritize your responses.
3. Be Ready to Disengage from your Regular Plan
Depending on the size of your disaster, you should be ready to stop posting according to your normal schedule. Obviously, if you're responding to a single, frustrated customer, there's no need to halt your entire social media machine. But if you're dealing with a substantial group of people, each "regularly scheduled" post that doesn't address their problem will only make the situation worse.
4. Be Real
It's hard work. But respond personally to as many of the complaints as possible. Sometimes, people just want to be heard. Do NOT try to automate this process. Setting up a quick program to automatically reply to every negative tweet with an apology will not win you any fans. The Fun Fun Fun organizers were quick to respond, but they also clearly copied and pasted the same message to send to everyone who mentioned the line on Twitter, which gave their apology a hollow quality.
5. Have a dedicated Social Media Manager
The value of a single person that knows your social community extremely well will skyrocket during a crisis. Think about it: is it easier to talk a friend or a stranger down from an angry ledge? A friend! Of course! Because you know them better! It's no different on social media.
Sometimes, these people are called Social Media Managers, though the term Community Manager also applies. Essentially, it's their job to nurture and develop relationships with your customers. The strength of those relationships -- or lack thereof -- will be a huge factor during a crisis.
6. Take Responsibility
This should go without saying, but you have to own up to your mistakes, too. If you errantly posted an inappropriate picture or message during a crisis and angered a portion of your customer base, don't defend the action. Apologize. Say it won't happen again. Same goes for the crisis itself. If it's your fault, just say so. You'll keep more fans that way.
Nobody likes a business or brand that can't admit when it's wrong.
What would you do if faced with a social media disaster? Let us know on Twitter @monkeeboy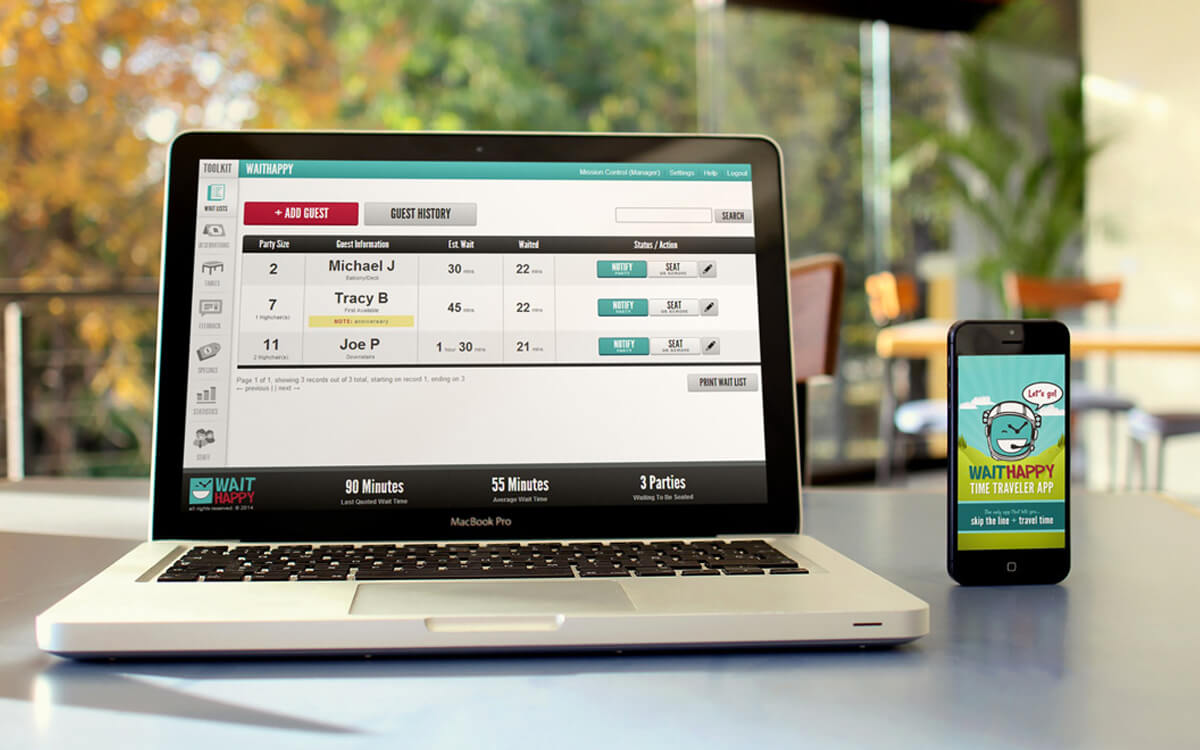 Four Tips For Hiring a Good SEO Firm for Your Business
In today's SEO climate, where Google penalties can result in all of your web pages getting removed from search results, hiring the wrong SEO company can have disastrous implications on your ability to conduct business.
Read more
Why Going Viral is a Weak Goal (And Tips to Go Shareable)
Do you remember Zack Danger Brown's potato salad Kickstarter? I recently received a message from Kickstarter asking me to either change or confirm my address so that I could receive my reward (a photograph of Zack making the potato salad) for pledging $2.00 to the campaign. In case you forgot (I did), Zack's potato salad Kickstarter went viral this past July. What started out as a joke raised over $55,000 in just 30 days.
Read more