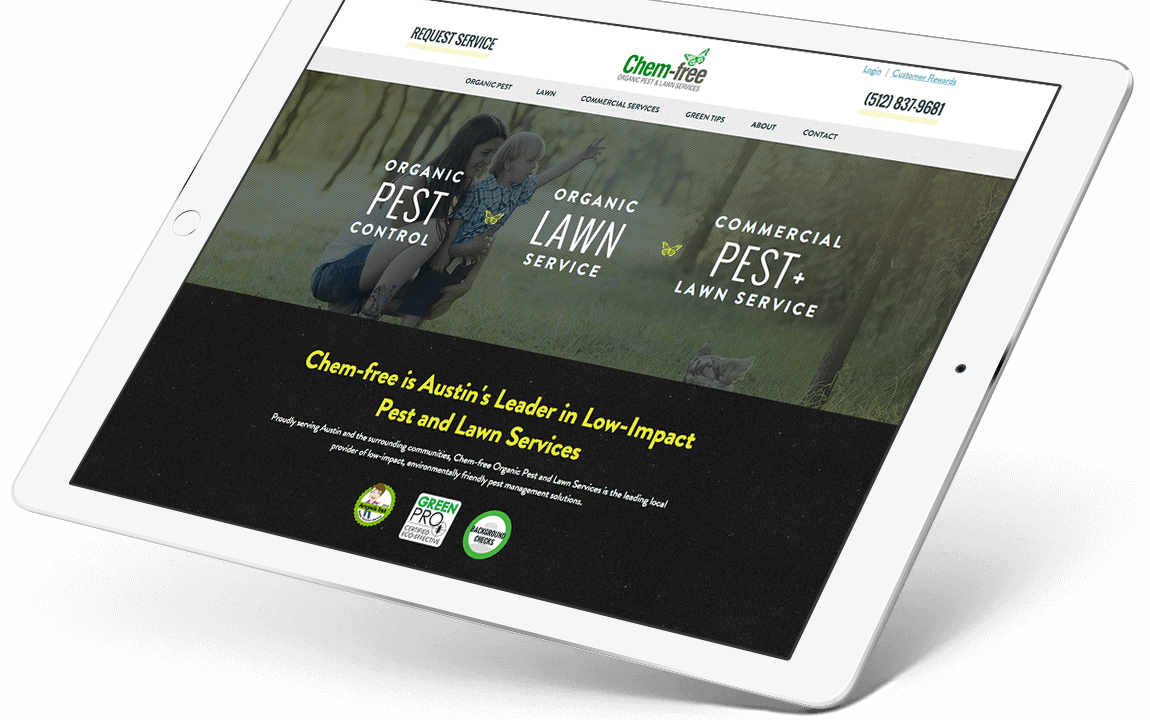 Visit the Site
Chem-Free Organic Pest and Lawn
CONVERSIONS
20%
Increase in Conversions
ENGAGEMENT
16%
Increase in Mobile Visitors
ENGAGEMENT
11%
Decrease in Bounce Rates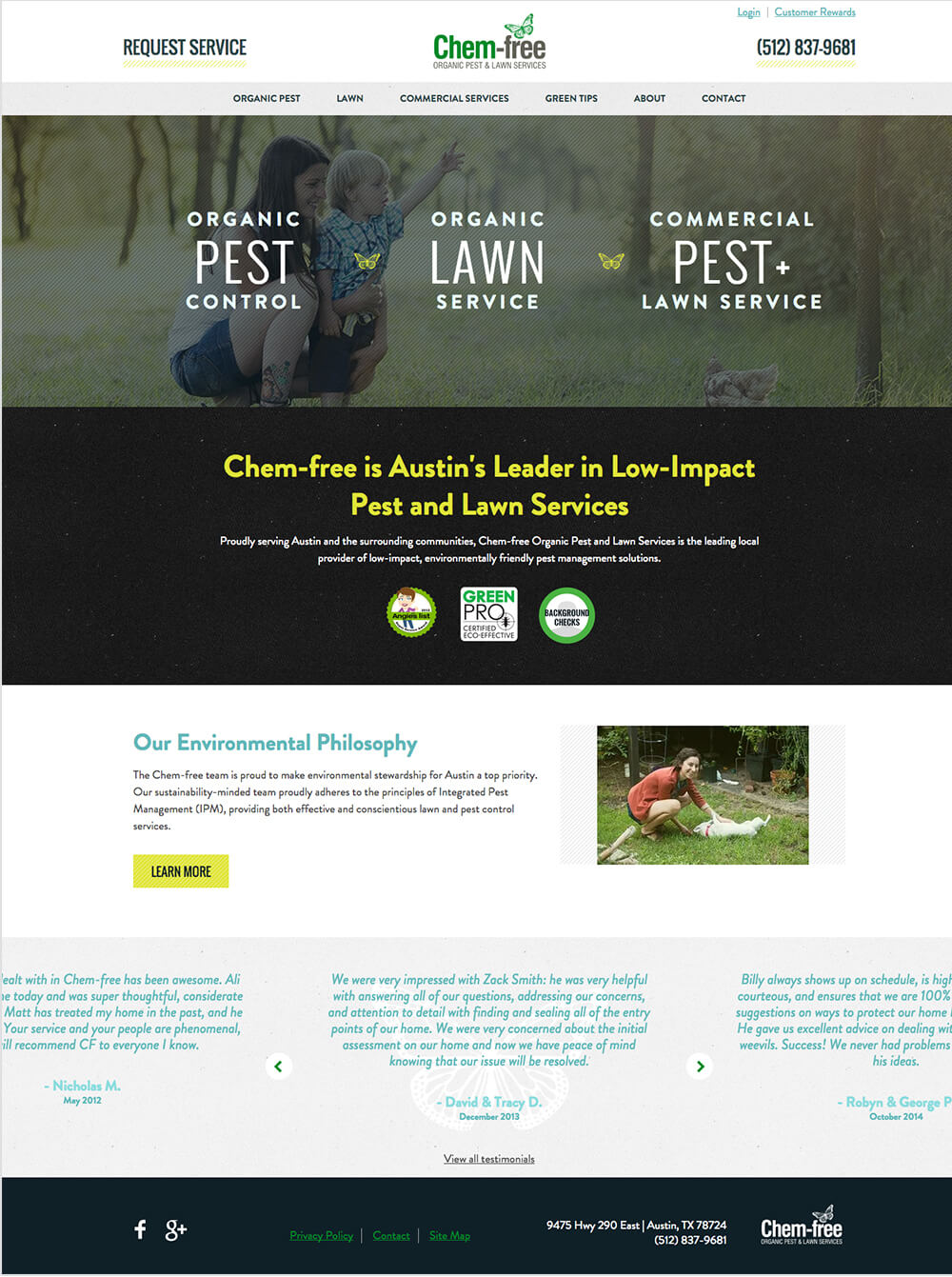 Environmentally Friendly Website
Chem-Free Pest and Lawn has been providing environmentally-friendly pest and lawn services to Austinites for over two decades. Now they have a cutting-edge web presence to solidify their position as the #1 provider of organic pest and lawn services in Central Texas.
Digital Strategy
Differentiation Chem-free from other non-organic pest and lawn companies and speaking to its unique target audience required Monkee-Boy's Diagnostic Strategy to ensure the right content was being presented to the right audience at the appropriate times. Shortly after launch, the implementation resulted in a 16% increase in mobile visits.
Fully Custom CMS
To streamline the sharing of technology with other divisions of its organization, Chem-free's turned to the custom MBoy CMS. With the increased horsepower, minimal clutter, and staging server they can now easily manage and share the wide variety of advanced functionality required by their divisions.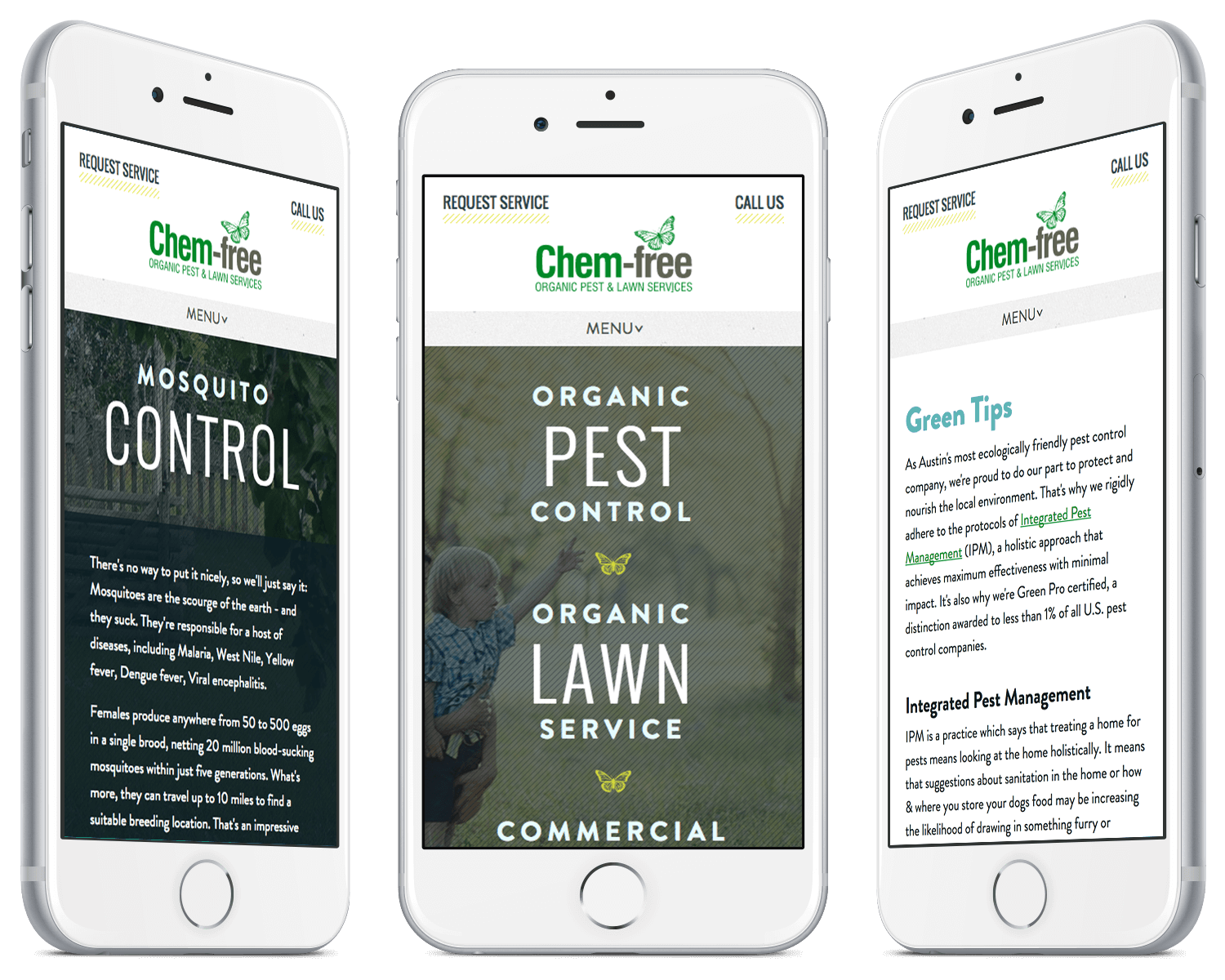 Increased Conversion
Smarter, not harder, right? Through the M-Pire Enterprise CMS, Chem-free can now easily manage which services can be scheduled and/or purchased, pricing matrices, supported zip codes and where leads should be sent, resulting in an incredible 20% increase in Chem-free's goal conversion.
Online Scheduling and Payments
How do you increase online conversions? Simple, allow users to schedule and pay for your services online at any time — day or night! Through a unique, custom developed approach, Chem-free now offers a scheduling portal allowing their customers to select, pay, and schedule services online. Integrated in with Google and Zillow, it even confirms the users house and square footage, making accurate estimates pain-free!