10 More Awesome Google WebFont Combinations to Try Today
We're back with more useful and fun Google WebFont combinations! Google WebFonts offers hundreds of great open source web-friendly fonts, but digging through them all can be a little overwhelming. That's why we've hand-picked a variety of combinations to help inspire you for your next web design project! Feel free to implement these in your work!
Fjalla & Average
Download: Fjalla One | Average
This combination is neutral with just a hint of masculinity. It's versatility and readability make it great for a site focused on technology, information, professionalism or data.
---
Stint Ultra Expanded & Pontano Sans
Download: Stint Ultra Expanded | Pontano Sans
This modern combination can bring a touch of sleekness to your design. The thinness of the fonts give them a subtle feminine feel and the wide slab serif works nicely for headers. This pair would give a fashion, makeup or style blog a chic look.
---
Rufina & Sintony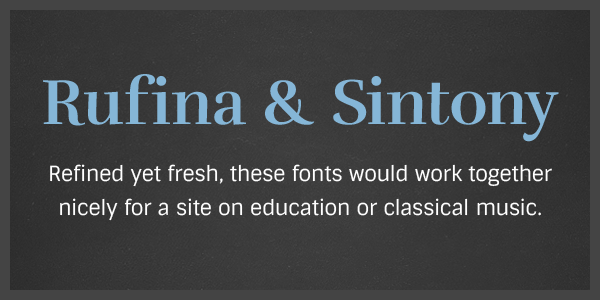 Here's a combination that's classy but still a little fun. These fonts are perfect for publishing poetry, a classical music review or blogging about local vineyards.
---
Clicker & Garamond
Download: Clicker Script | EB Garamond
A whimsical pair that juxtaposes a fluid script font with a structured serif font. This combination would work nicely for custom cupcakes, pretty princesses, fanciful fairy tales or beautiful butterflies.
---
Oxygen & Source Sans
Download: Oxygen | Source Sans Pro
This is a great combination for a wide variety of uses. It's simple, neutral and attractive. Source Sans Pro is a great font for body copy and comes is many weights. Oxygen in bold works wonderfully for drawing attention to headers. Both fonts are readable, nicely designed and offer varied weights...two great additions to any font arsenal!
---
Dancing & Ledger
Download: Dancing Script | Ledger
Two useful fonts that look elegant without being stuffy. Dancing is lovely and versatile for a script font. It's flow-y appearance is nicely contrasted with the stable look of Ledger. These are perfect for any story, fantasy or theatrical performance that wants to convey a mature but fun attitude.
---
Shadows & Roboto
Download: Shadows Into Light Two | Roboto
Here's an enjoyable couple of fonts that play off of each other nicely. Shadows is a fun handwritten font for adding an artsy twist to your typography. Roboto is a very handy font that compliments the tall, thin build of Shadows. You can use these for scrap-booking, hand-made jewelry and funky knitting sites.
---
Open Sans & Gentium
Download: Open Sans | Gentium Basic
This classic combination is bold but neutral. Open Sans is another super useful sans serif font with many weights and styles offered. It demands attention as a header in heavy and all-caps. Gentium is an elegant and readable serif for body copy. These fit a wide variety of uses including political sites, personal blogs, instructional or tutorial sites and educational materials.
---
Lustria & Lato
Another really diverse pair. Lustria is a refined serif font that is well-made with a little style. Lato is also subtle and supports a lot of variety. These could work well for news, informational or review sites that cover a wide variety of subjects. These two are great for experimenting with: try using Lustria for body copy and Lato in a bold italic for headers!
---
Bitter & Raleway
Bitter makes a great headline font in bold with it's characteristic curves and the elegance of Raleway compliments it in a thinner weight. Both fonts are slightly distinct without being too funky. These could give a strong and unique look to anything from a literary review blog to a modern coffee shop site.
---
We hope you enjoyed this post! For even more useful font combinations, check out our first post: 10 Great Google WebFont Combinations For Your Next Project! Subscribe to our RSS and bookmark to see more posts like this. Need help using these fonts? Get Started here.
Jungle Lab: An App for Home Slice Pizza
What if? Not a day goes by at Monkee-Boy world headquarters in Austin, TX without someone asking a design question that starts with these two words. This is why we've created the Jungle Lab. It's not a real laboratory. There are no beakers or bunsen burners. It's more like a place for the mind to experiment, an opportunity for our team to answer some of their dangling "What If..." questions.
Read more
Six Must Have Skills in a Web Designer
Lately, we've noticed a welcome movement within our industry toward demystifying design in order to make the conversation between agencies and clients more accessible. A website is essentially a company's home on the internet. You would not want someone to cut corners while building your family's home, and the same can be said for your company's website.
Read more