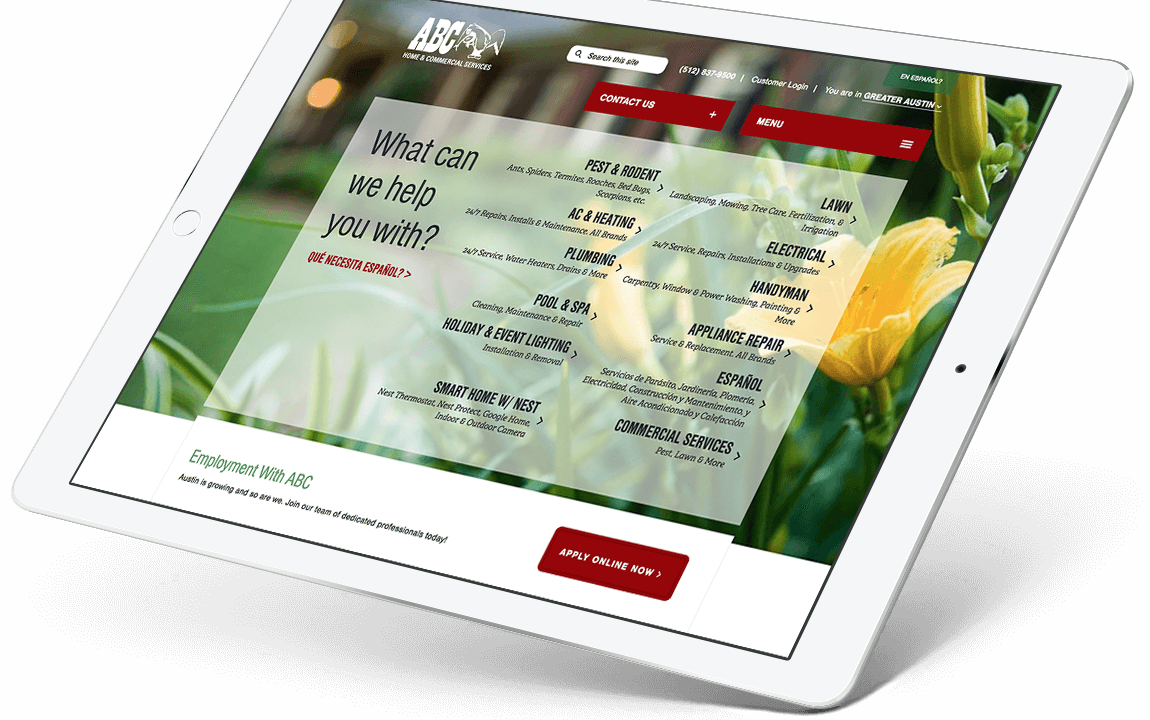 Visit the Site
ABC Home & Commercial Services
Interest
51%
Increase in content marketing leads
Interest
78%
increase in unique website visitors
Engagement
68%
Increase in goal conversions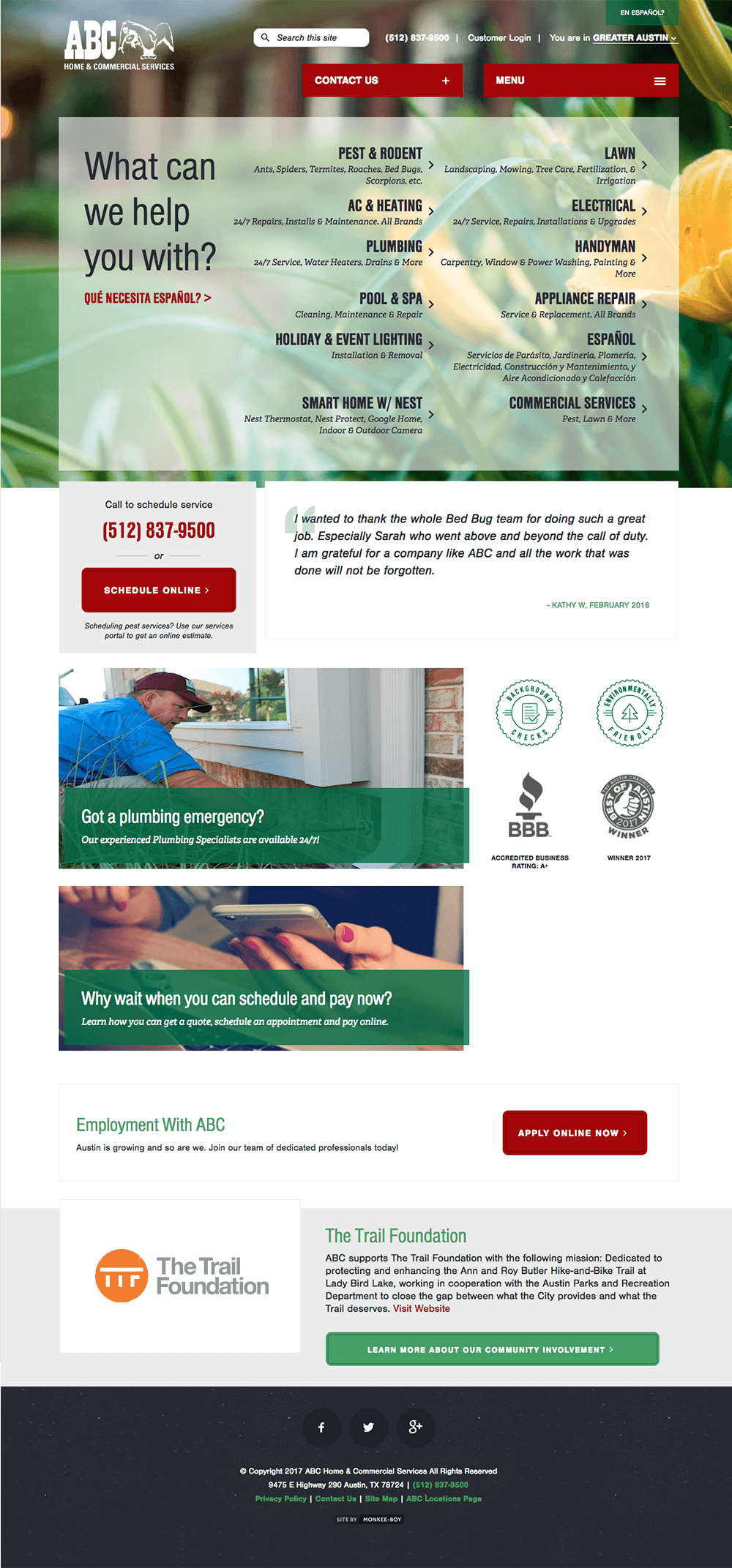 About ABC
ABC Home & Commercial Services is one of that nation's largest, independently owned services companies. When the time came to take a closer look at their digital needs and how to evolve the company's digital landscape to capture more mobile visitors, increase SEO, and streamline conversions, Monkee-Boy was once again brought in to help ABC navigate their new challenges.
Robust Digitial Strategy
Organizing 100's of pages of content across varying locations and services required Monkee-Boy's Diagnostic Strategy to ensure ABC was presenting the right content, at the right time, on any device. Shortly after launch, the implementation resulted in a 35% increase in mobile visits and 78% increase in new visitors.
Fully Custom CMS
ABC's new site is powered by the custom MBoy CMS. With the increased horsepower, they can now easily manage the wide variety of advanced functionality and content required for their diverse locations and service offerings.
Click-To-Buy Purchasing
How do you keep capturing leads even when your office closes? Easy, allow users to pay and schedule appointments at any time from anywhere. Through a unique, custom developed approach, ABC now has a one-of-a-kind purchasing and scheduling portal allowing ABC customers to select, estimate, pay, and schedule services online. It even shows the user their home and calculates their square footage automatically.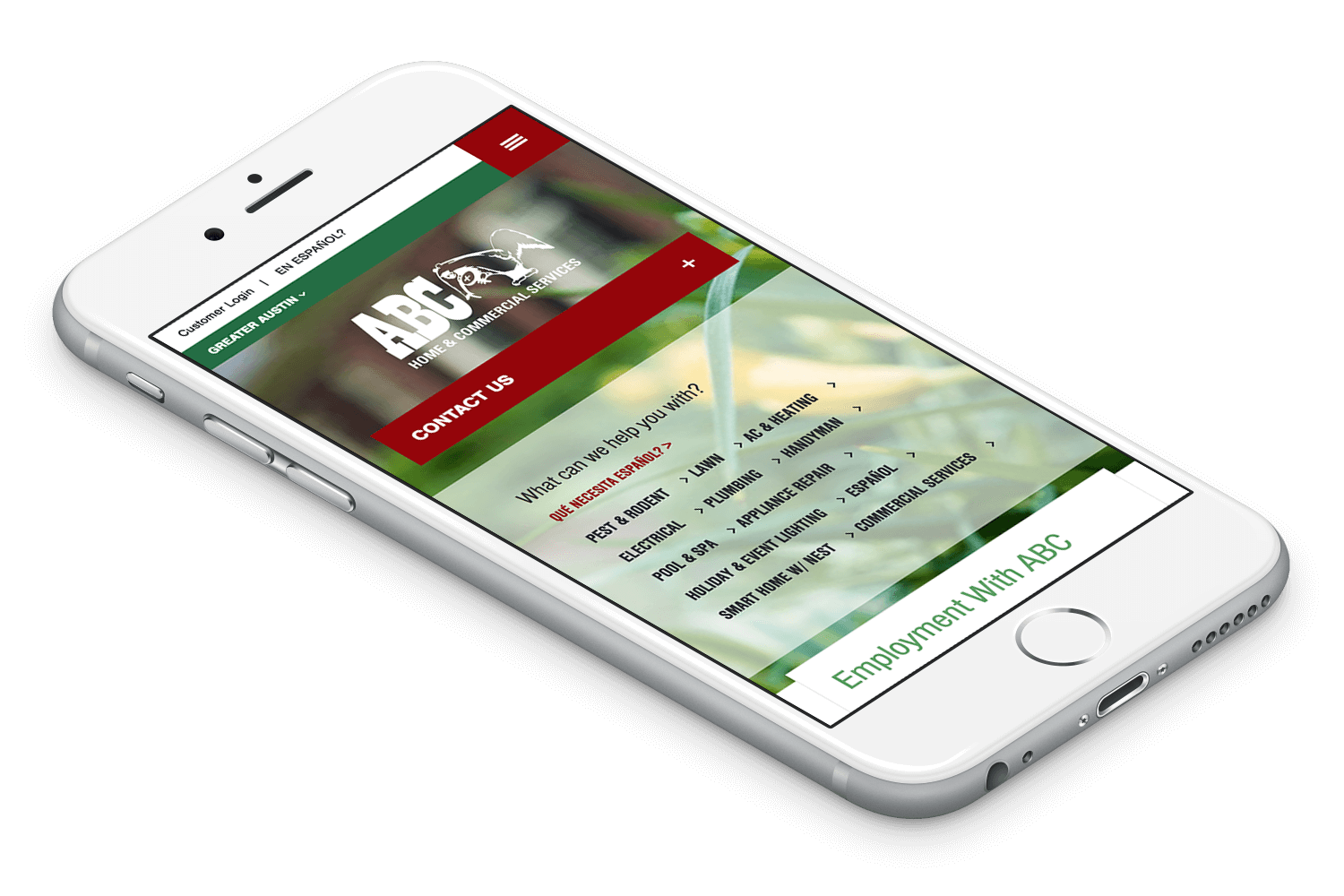 Custom Iconography
It's not all about the great new tools. As part of the redesign process, ABC received a new set of custom built icons to represent all of their services, features, and benefits to be used across the site, blog and other interactive functionality.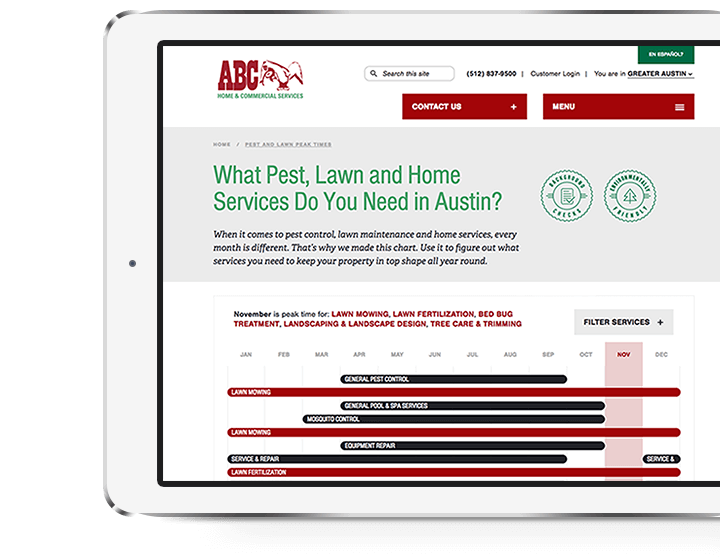 Peak Time Indicator
Ever want to know when termites are going to swarm or when you should fertilize your lawn? Now you can in one quick view by utilizing ABC's new interactive peak time indicator that helps visitors understand what services are most important at different times of the year.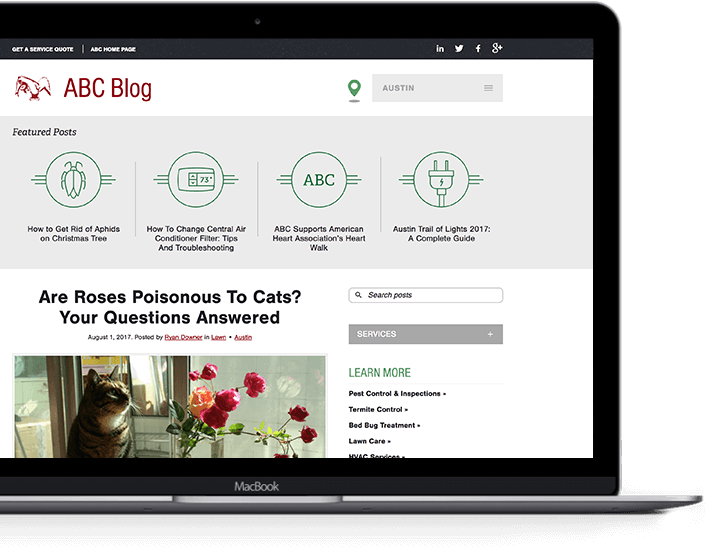 Streamlined Lead Generation
Smarter, not harder, right? Through the M-Pire Enterprise CMS, ABC can now easily manage which services can be scheduled and/or purchased, pricing matrices, supported zip codes and where leads should be sent, resulting in a 67.5% increase in ABC's goal conversion.
Additionally, with Monkee-Boy digital marketing support has generated over 135,000 visits from their content marketing activities – a 51% increase over the year prior.