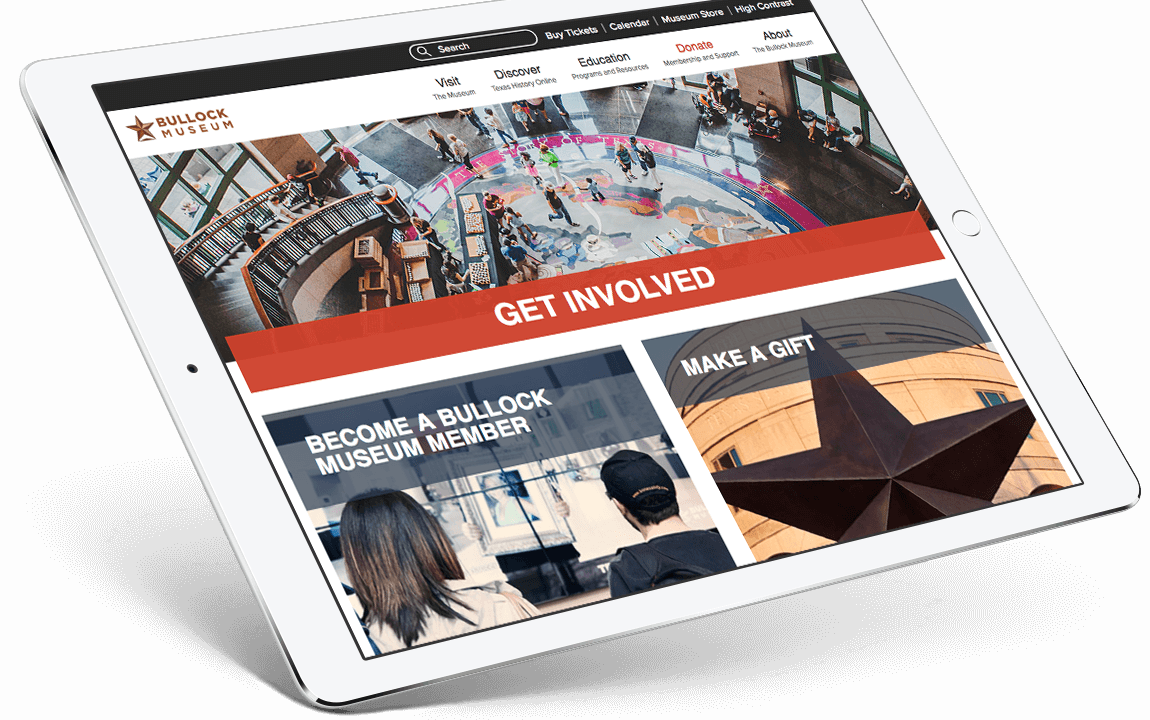 Visit the Site
Bullock Texas State History Museum
Interest
119%
increase in new site visitors
Acclaim
Gold
Muse Award for "Best Online Experience"
Acclaim
1st
Place Texas Association of Museums Award

About the Bullock
Welcoming more than 450,000 visitors a year, The Bullock Texas State History Museum features 500 ever-changing artifacts that span more than 13,000 years. It also includes the largest IMAX® Theatre in Texas, a 4D special-effects theater, a cafe, and a Museum Store. Our goals were simple, increase the digital reach to new and old Texans, and build a connection to the past. We were also challenged to integrate and develop new digital collections of artifacts and showcase stories through user-generated content. We were selected to help navigate those waters.
Robust Digital Strategy
Building a new, fully responsive site with strict accessibility, government, and COPPA requirements were challenging enough. Throw in the diverse mix of audiences including teachers, students, members, and casual visitors of all ages across all of Texas, and you've got your hands full. The solution was created through Monkee-Boy's robust Diagnostic Strategy process, resulting in a 116% increase in search engine visits, a 119% increase in new visitors, and a 169% increase in returning visitors.
Fully Custom CMS
To break the mold of other museum sites, and give the Bullock unlimited freedom over the site's design and functionality, Monkee-Boy utilized the fully custom MBoy CMS. Allowing the project to explore every idea, push the boundaries of an expected museum site, and find success where others may have fallen short. The increased horsepower and flexibility resulted in not only an amazing experience but two (2) top industry awards including the highly coveted AAM MUSE Gold Award for "Best Online Presence", a Tammy from the Texas Association of Museums, and being presented at SXSW interactive.
A Site for All of Texas
Expanding the physical walls of the Bullock online required two separate tasks — presenting great content in new ways and providing new ways for Texans to join the conversation and add to the digital collection. Through new and exciting techniques including the award winning Texas Story Project, online digital photo contests, and a fully COPPA compliant Instagram curation tool, the Museum has experienced an amazing 179% increase in visits from outside the Austin Metro, 1000's of user generated content submissions, and one of the most successful digital story collection projects ever imagined.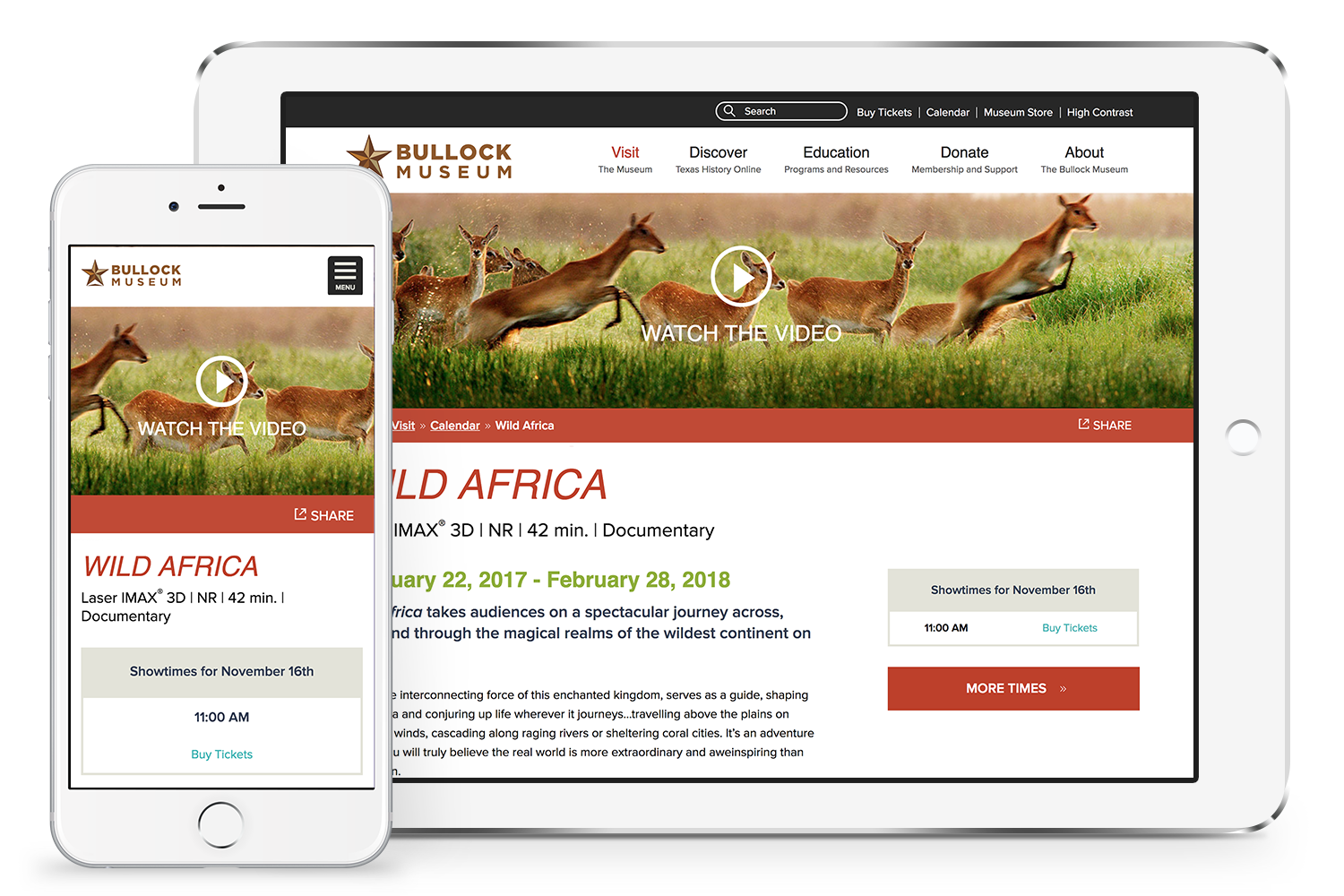 Interactive Terrazzo
Use a floor mural to help users explore the rich history of Texas? No problem. The Monkee-Boy team built a custom illustration of the Bullock's terrazzo and turned it into the new front door of its highly acclaimed Campfire Stories section. Allowing users to learn Texas history through the eyes the people who helped create its rich heritage.
All-Inclusive Calendaring System
The Bullock houses one of the widest varieties of events and programming in central Texas. Including special exhibits a wide range of movies and documentaries, family activities, special educational programming, even live music in evenings during the summer, and more! Such a breath of series of events required a complex, custom calendaring system that allows users on any device to see what's going on today, tomorrow and months into the future. Additionally, through seamless integration with Blackbaud's Altru system, Bullock filming staff can easily manage movie showtimes, landing pages, and ticket sales.Check out the state-of-the-art calendaring systemhere and go check out one of their amazing events!
Interest
116%
Increase in search engine visits
Interest
169%
Increase in returning visitors
Interest
179%
increase in visits from outside the Austin Metro