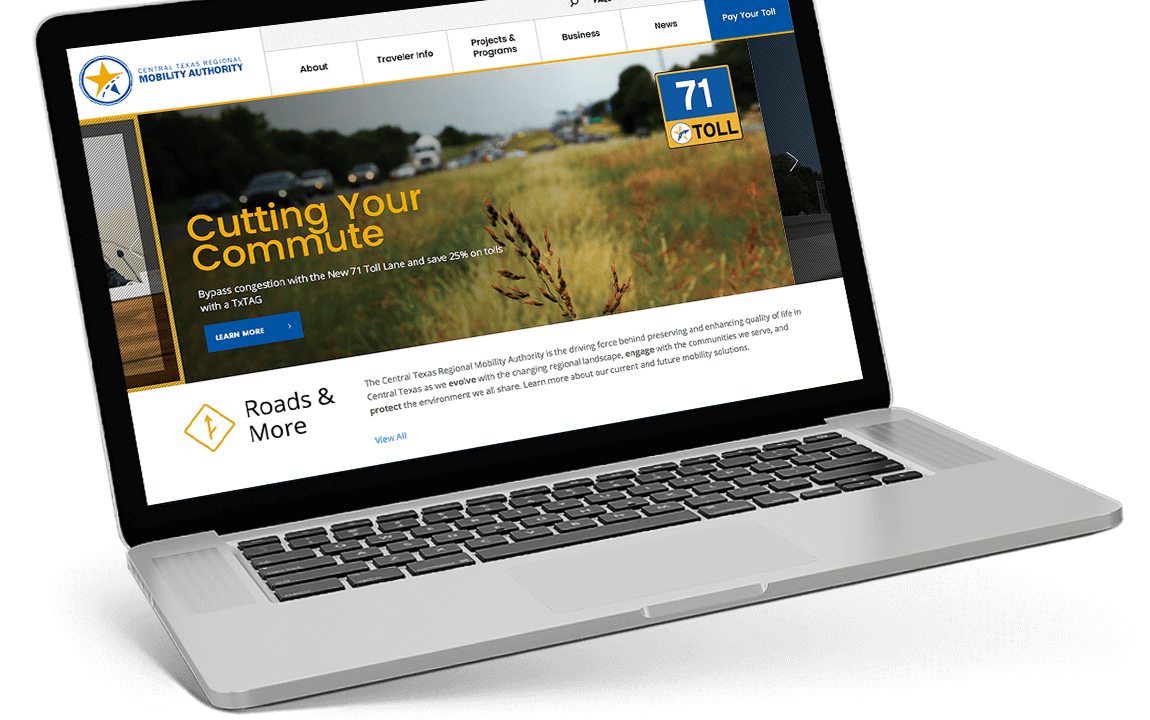 Visit the Site
Central Texas Regional Mobility Authority
User Experience
25%
Decrease in Page Load Time
Engagement
21%
Decrease in Bounce Rate
Engagement
37%
Increase in Session Duration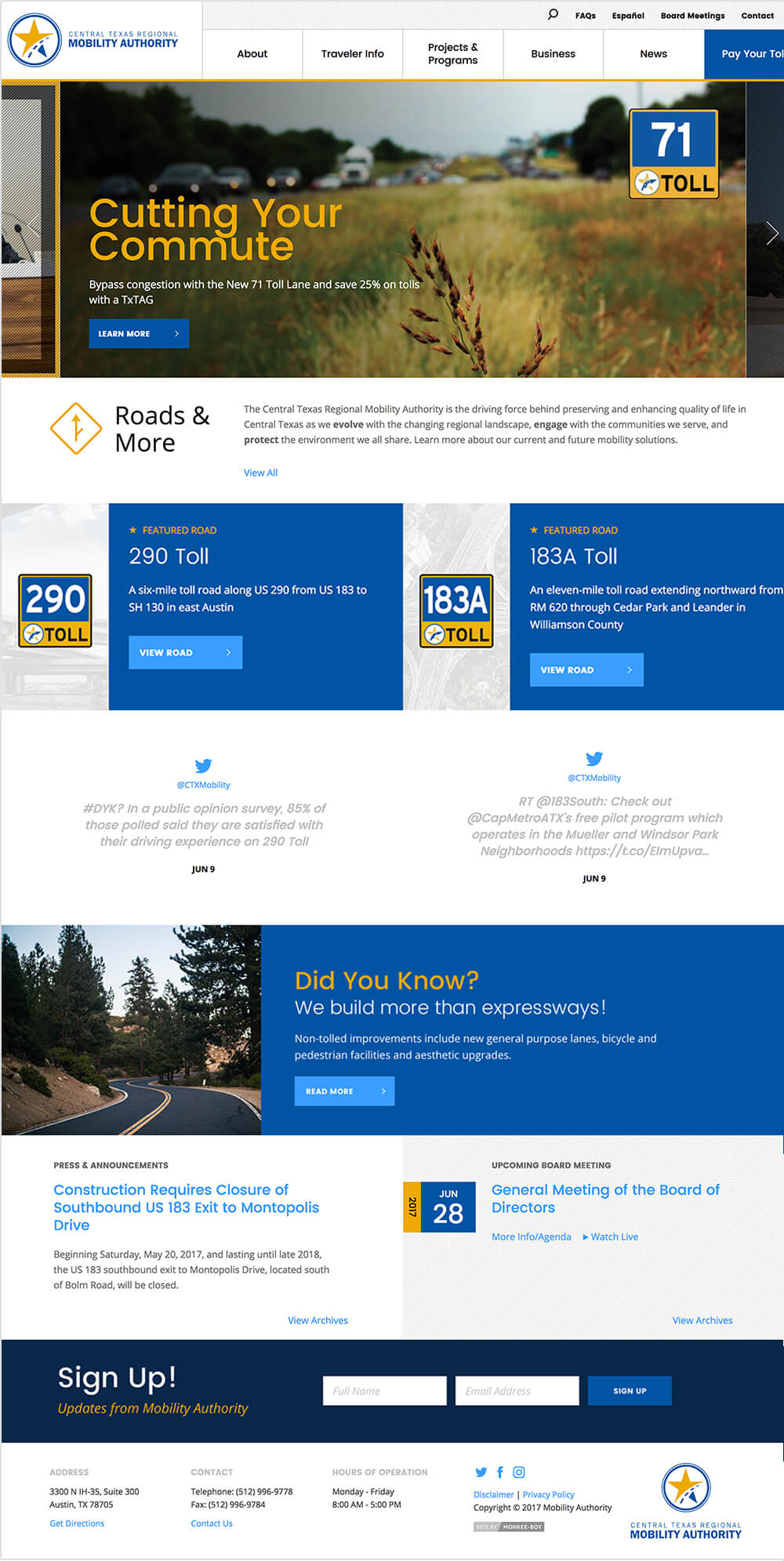 About CTRMA
The Central Texas Regional Mobility Authority is an independent government agency created in 2002 to improve the transportation system in Williamson and Travis counties. Their mission is to implement innovative, multi-modal transportation solutions that reduce congestion and create transportation choices that enhance quality of life and economic vitality. Monkee-Boy was tasked with helping evolve the digital presence of the organization to better align with their business goals and content needs of its staff and diverse user base.
Fully Responsive Design
One of the primary goals of the project was to improve the user experience across all devices as the previous site was close to 6 years old. Through its robust Diagnostic Strategy, Monkee-Boy identified all content types, advanced layouts and ongoing content needs to quickly establish the best approach in improving the user journeys and experiences across desktop, laptop, tablet, and mobile devices to improve usability and increase engagement.
Custom Content Management System
To assist with the ongoing management of CTRMA's large variety of content, Monkee-Boy utilized its enterprise-grade, M-Pire Enterprise CMS to provide the Mobility Authority team all the easy tools they needed to take over ongoing management of the site. The CMS also allows the Mobility Authority to extend functionality and content in the future to any satellite transportation sites and mobile apps it might consider.
Flexible Page Builder
Lots of different content and page types required the use of the flexible Page Builder within Monkee-Boy's M-Pire CMS. This advanced tool allows Mobility Authority staff to easily manage a wide variety of content types in a setting that makes the user experiences bullet proof across device types.

Digital Branding
As part of this project, Monkee-Boy was asked to help update the digital branding of the organization to allow for more flexibility and an updated, more modern look. Monkee-Boy was up for the task and created a modified logo, adjusted the digital color palette, and created a digital style guide to help inform other partners on the best ways to use and implement the refreshed brand.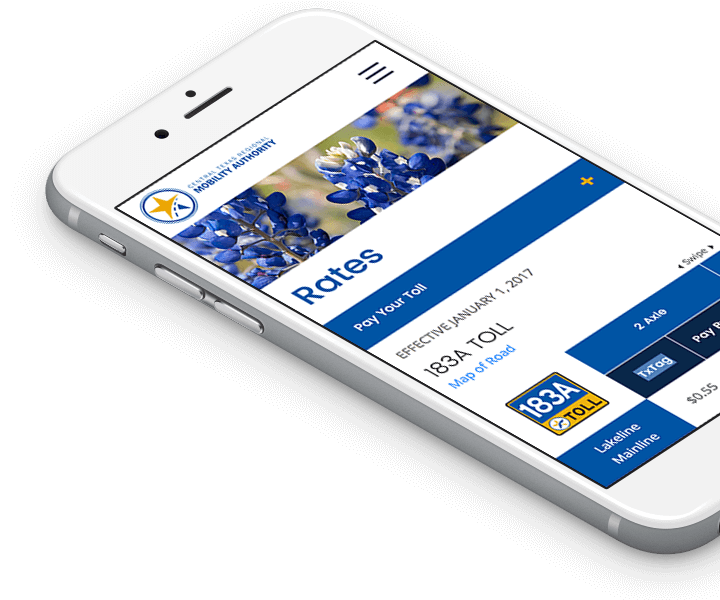 Toll Payment Efficiency
One of the primary issues of the older site was that users always thought CTRMA handled the actual toll payment processing. To help with this confusion, Monkee-Boy build a simple "Pay Your Toll" display that allowed users to easily be directed to the correct payment agency to answer their questions and update their information.
Real Time Toll Rates
Ever wonder what the going rate at a certain toll onramp/exit is? Look no further! Through some advanced integrations, Monkee-Boy has helped enable the real time views of rates across all Central Texas toll roads.
Board Meeting Management
Board meetings are the way the Mobility Authority keep the public and stakeholders updated on program and project status. To help facilitate the many meetings and myriad of associated documents, Monkee-Boy worked with CTRMA to develop an robust, yet easy-to-use, system to easily schedule, manage, and promote its BOD Meetings.