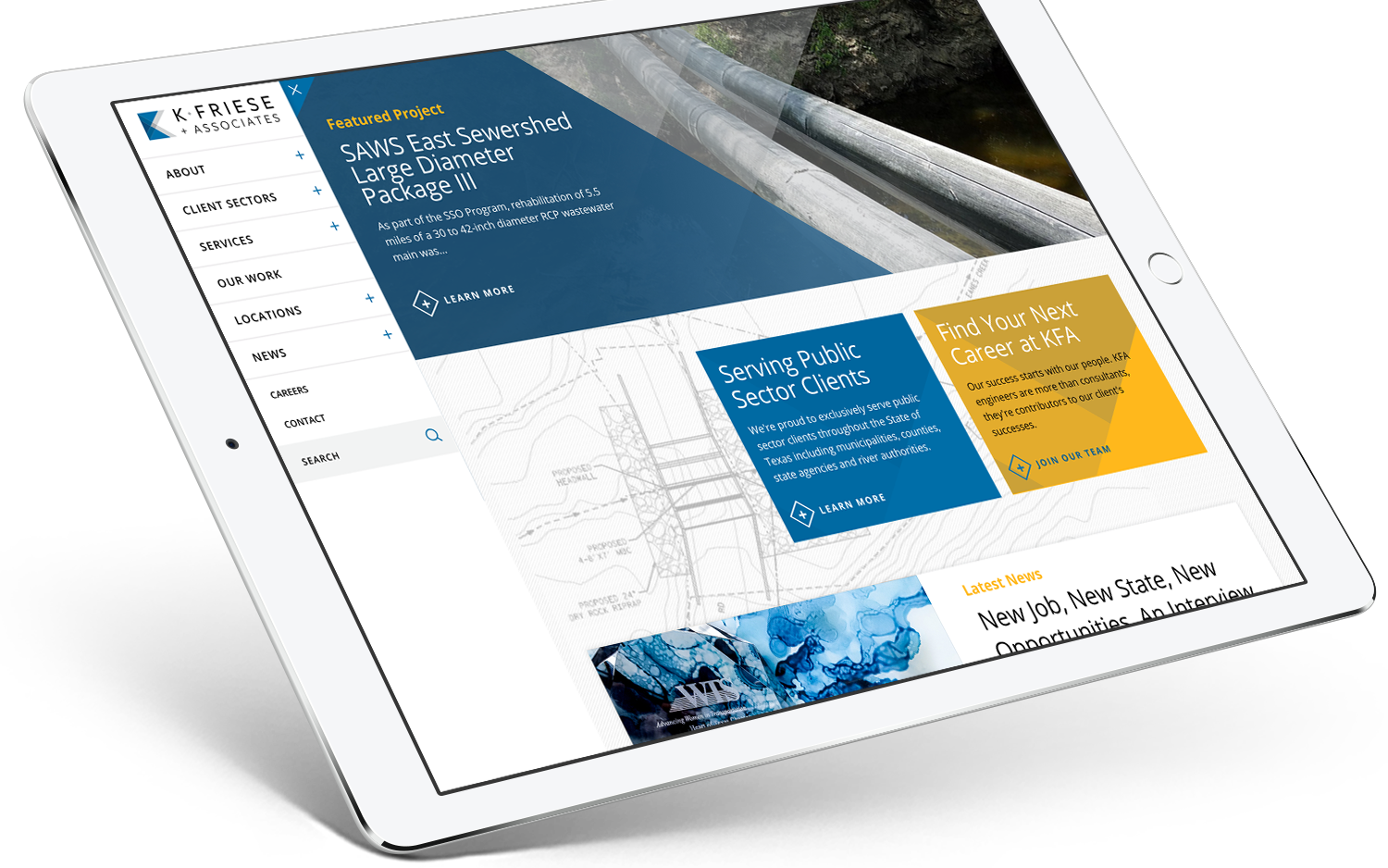 View The Project
K Friese & Associates
Engagement
151%
Increase in Page Views
Engagement
66%
Increase in Time on Page
Attraction
49%
Increase in Visitors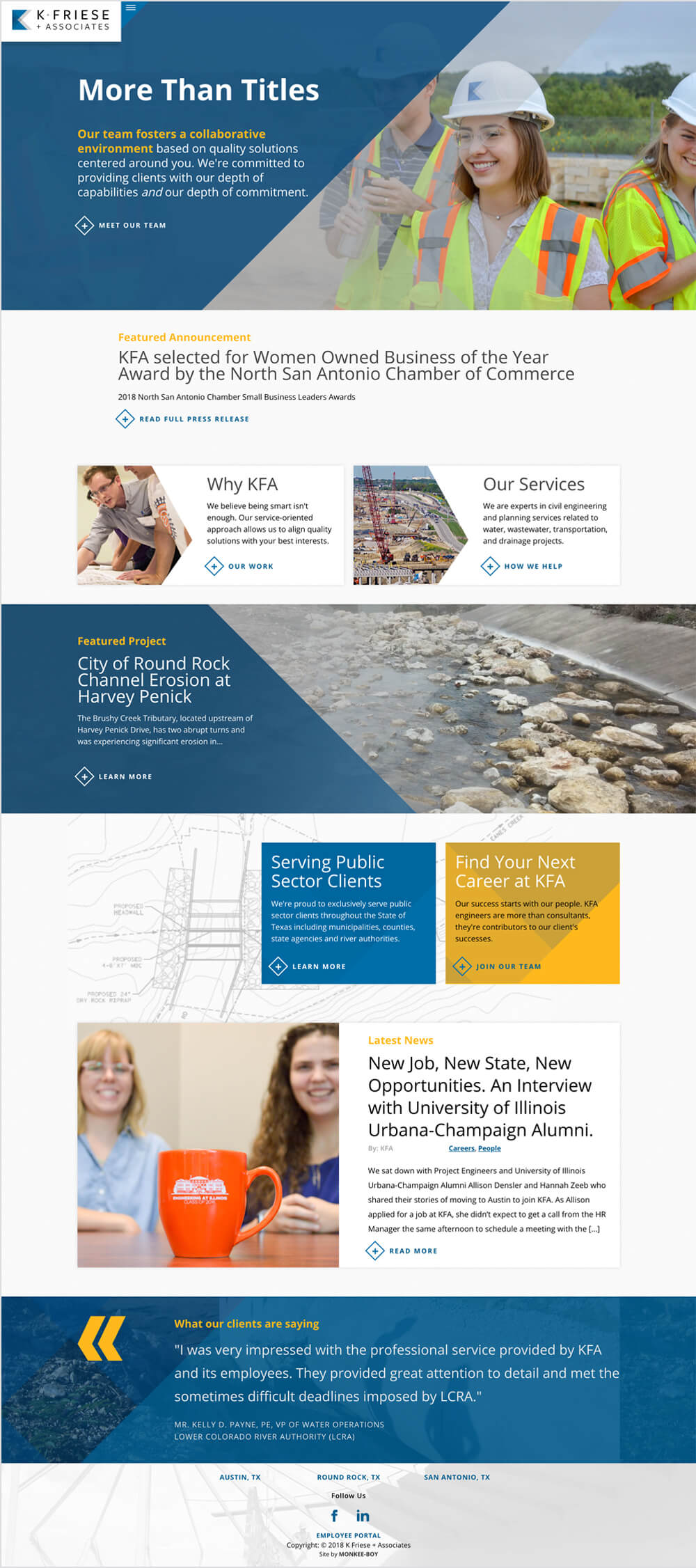 About K Friese & Associates
K Friese + Associates (KFA) was founded in 2003 in Austin, Texas, by Karen A. Friese, PE. KFA quickly grew into one of the most established civil engineering consulting firms in Central Texas by providing water, wastewater, transportation and drainage planning, design and management projects services to their public sector clients. Due to its success, KFA was growing very quickly and it needed a new digital experience to showcase its award-winning work and help attract the right talent to support the expansion of its footprint throughout Texas.
The goals of the project were to evolve the KFA brand online to better represent the organization and differentiate it from its competitors, better showcase the quality of work and depth of engineering experience that KFA provides to the Central Texas region, and accurately represent the company's culture to attract new talent.
Digital Diagnostic Strategy
To fully understand the goals, audiences, and environment, Monkee-Boy deployed its trusted Diagnostic Strategy. One of the initial challenges faced was helping some of the senior stakeholders understand the value that a well planned and designed website could provide to a quickly growing organization and how the website would help attract its future talent pool.
WordPress CMS with Custom Tools
To help support the KFA marketing team's ongoing needs, Monkee-Boy established a content management plan that included using WordPress and a series of custom developed content tools to help KFA easily manage its team, projects, regions, events, locations, and upcoming job opportunities. All of the tools were designed specifically to support KFA's content, ensuring they fit like a glove. With the backend in place, KFA is now completely self-sufficient and actively making changes to its site.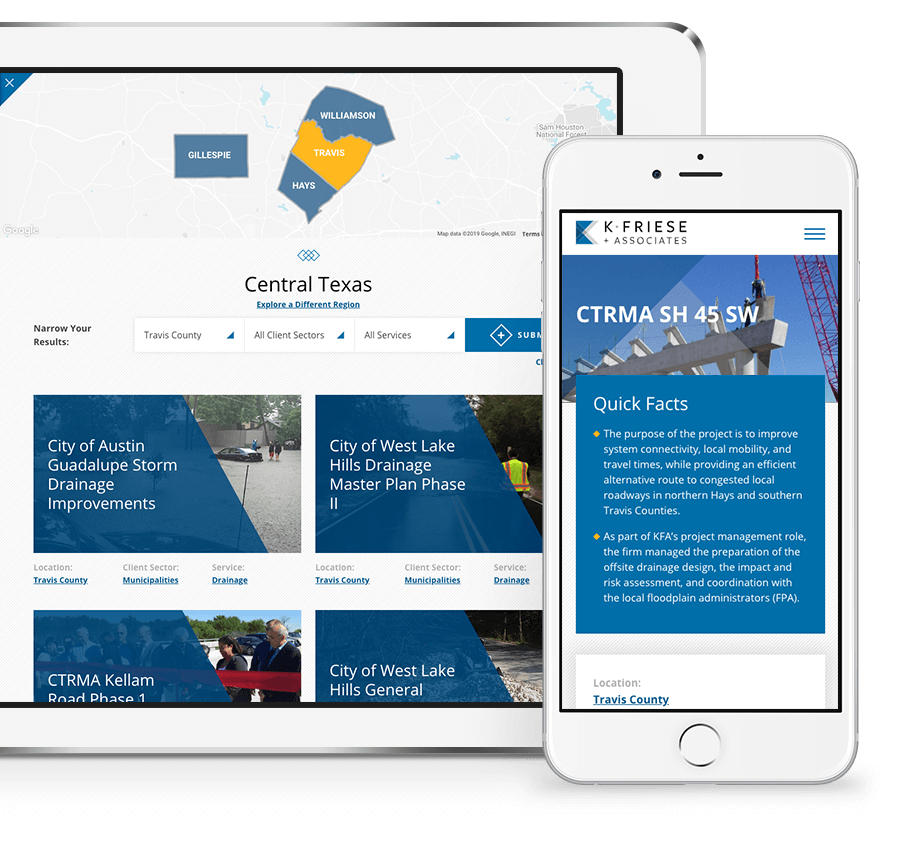 Showcasing the Quality and Depth of KFA's Work
One of KFA's biggest assets is its decades of engineering experience across Texas's municipalities, counties, regional and state entities. To help showcase this vast history and portfolio of work, Monkee-Boy built a custom interactive map with advanced filtering and tagging that empowered users to easily filter projects by location, sector, and/or service. The advanced tagging also allowed KFA to contextually promote specific projects to their service and sector pages, which helped its users easily navigate and explore the site.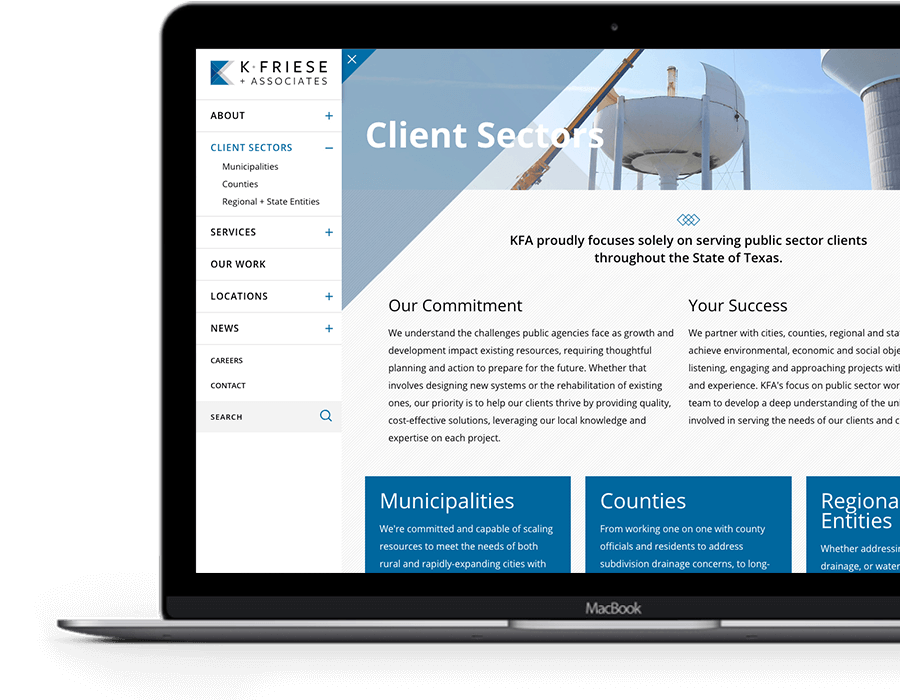 Recreating the KFA Experience Online
KFA is a very cool engineering company. They have a great culture. They give back to the community. They want to attract people who understand their uniqueness and would fit with their culture and ethos.
Two things were obvious. First, the content had to be unique. It had to speak to and attract the type of people that KFA wanted to hire and the clients who could use KFA's deep expertise.
To solve this challenge, Monkee-Boy partnered with Pierpont Communications to create and craft the necessary content to both represent and support its future growth. This was a great fit as Pierpont served as KFA's trusted communication's firm for years, working closely with them to establish its business plan and external communications.

To help set KFA apart from its competition, attract new clients, and show prospective employees that KFA brings interesting ideas and solutions to any project, Monkee-Boy developed a unique, one of a kind vertical navigation that elegantly allows users to navigate the site, explore content, and keep the brand front and center. The navigation opens when necessary and can be left open throughout the user's experience or, alternatively, can be shut and hidden if the user wants to explore through the cross-connected content.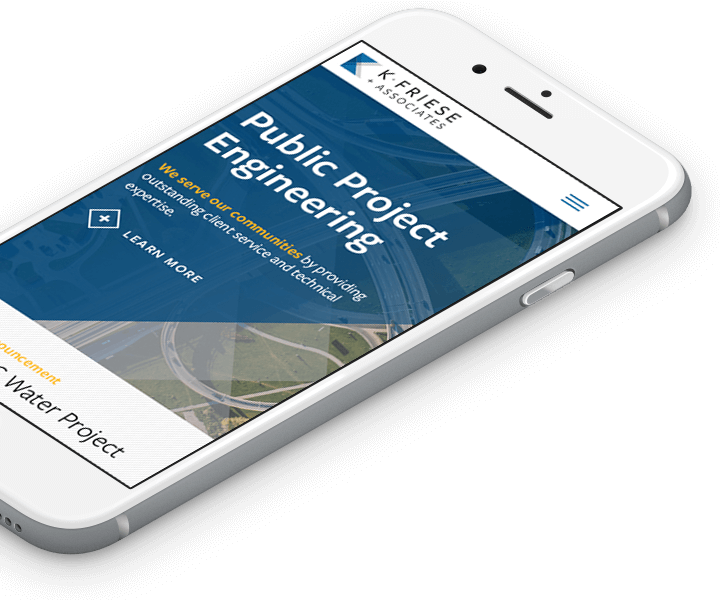 Evolving The Brand
KFA invested a lot of time and energy in building a brand that represented the company visually and stood out from its competition. Monkee-Boy was then challenged with extending the new brand approach online and do such in a way that held true to the established aesthetics, but also helped evolve it to new mediums.
To help with this, Monkee-Boy carried forward the translucent angles of the KFA logo to the site into the design system and interactivity giving it a very unique aesthetic that was true to the organization and its brand.
Engagement
40%
Increased Avg User Sessions
Attraction
38%
Increase in Mobile Visits
Experience
12%
Decrease in Bounce Rates