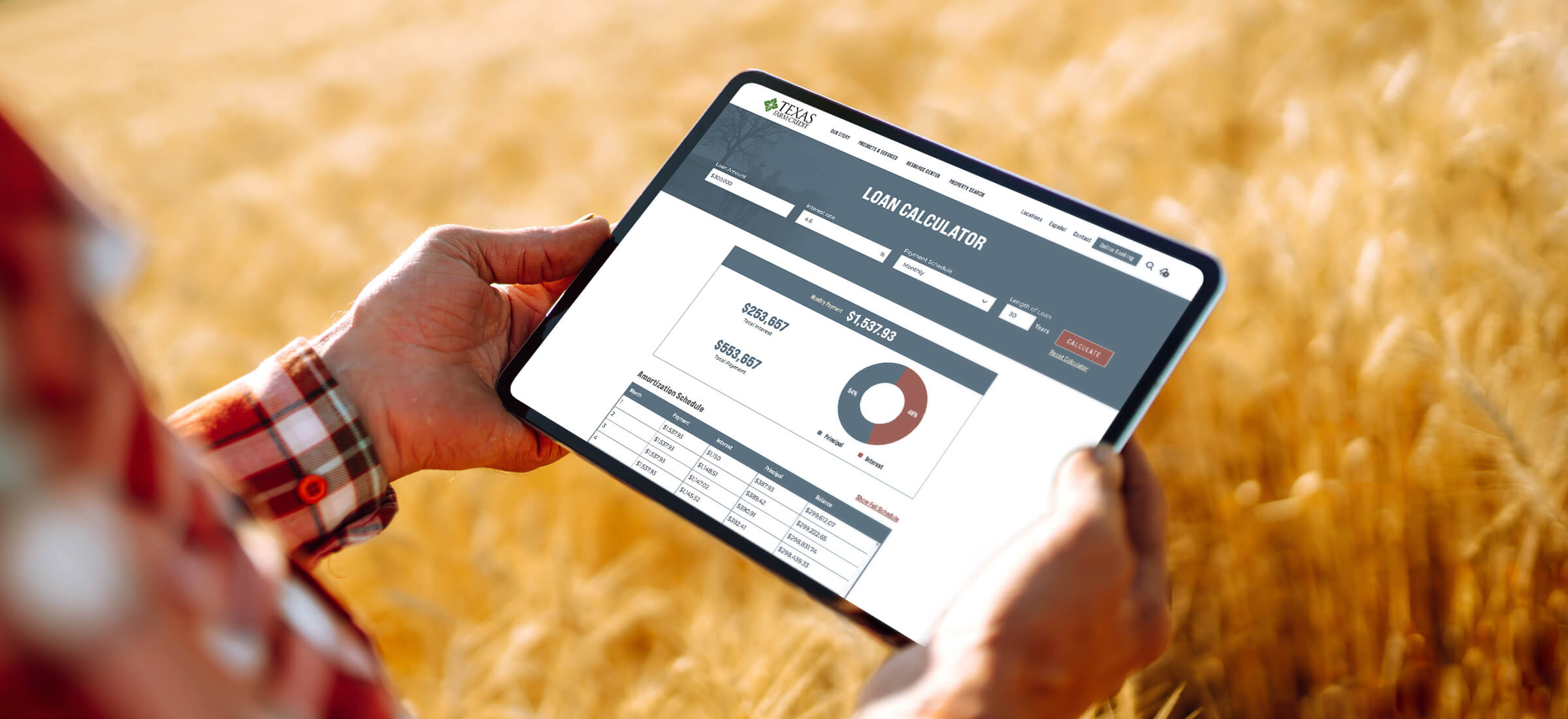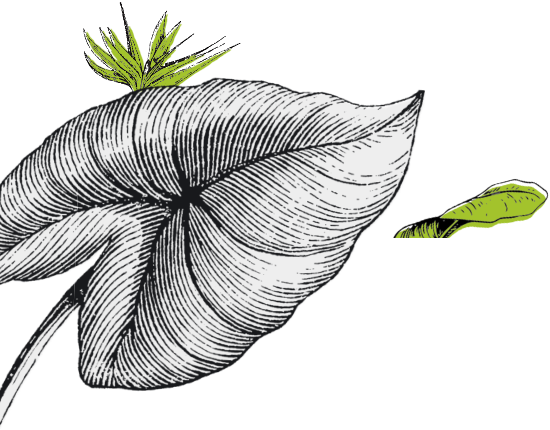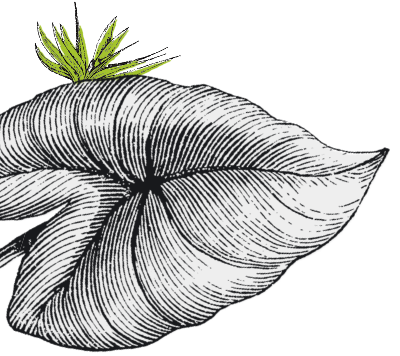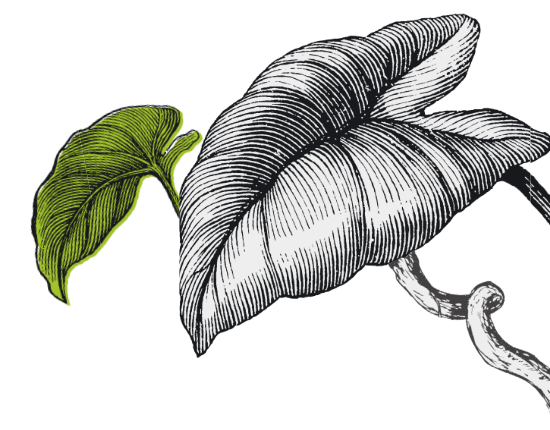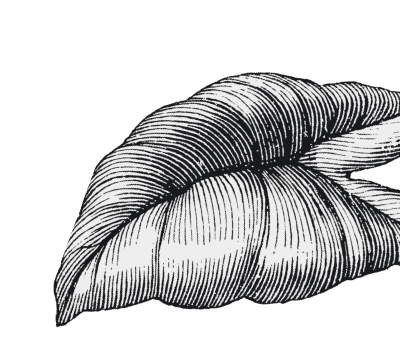 Texas Farm Credit
Project:
2022 Redesign Project
Texas Farm Credit is a member-owned, community-focused cooperative, and is a member of the nationwide Farm Credit System. From agricultural loans to insurance options, TFC has a bedrock for the changing financial needs of rural customers across the great state of Texas.
Texas Farm Credit has been an essential resource for the farmers of Texas. Since 1908, they have supported the communities they serve through thick and thin and built a great reputation for being one of the most approachable and respected credit unions for farmers & ranchers. Over the years, Texas Farm Credit's digital experience had slowly degraded to become harder to manage, less inclusive, and overall not reflect its brand promise.
A new digital experience was needed to create a platform for & elevate the brand, deliver confidence to TFC's current & future members, and build the foundation for future growth.

Enter Monkee-Boy.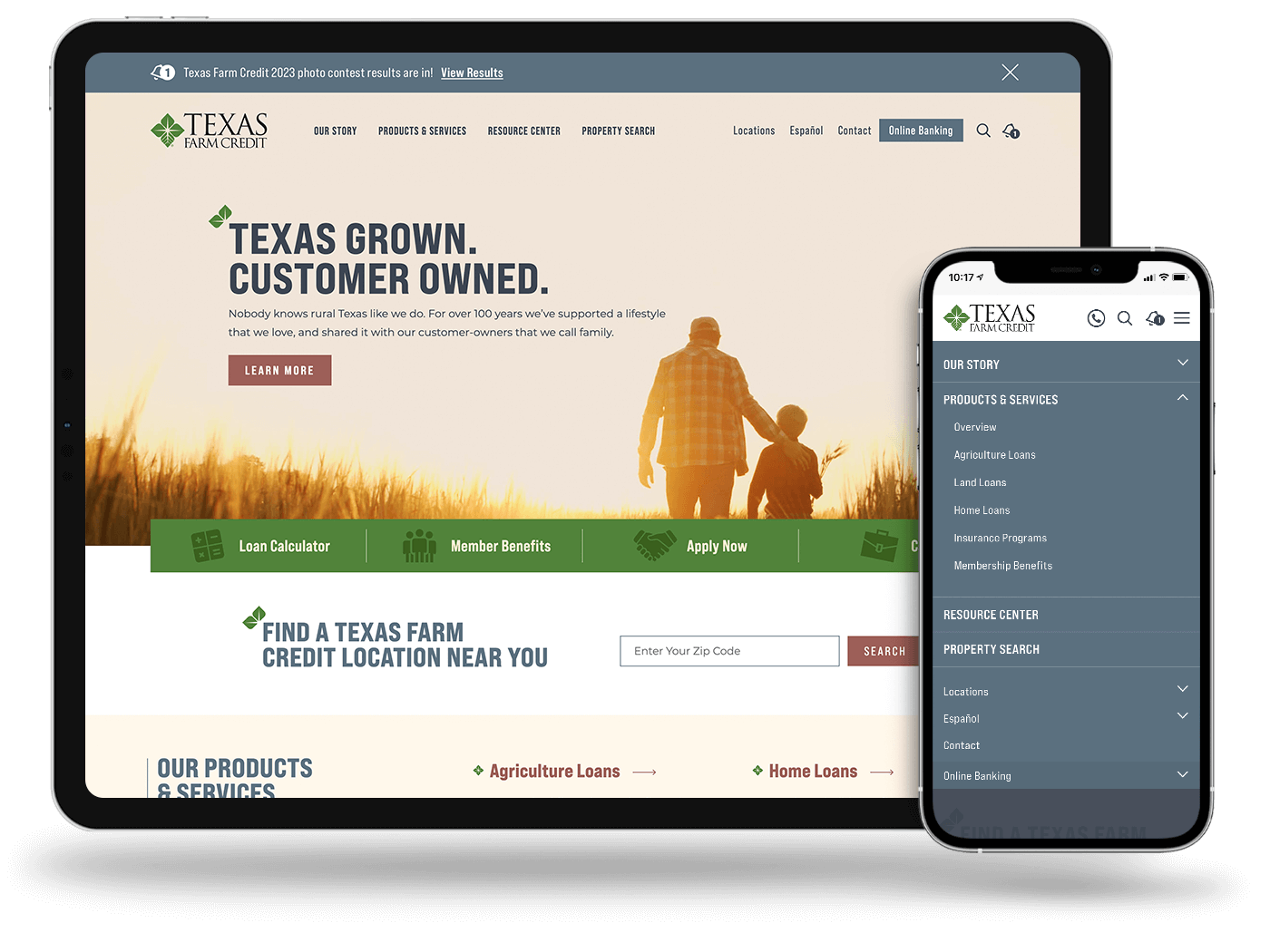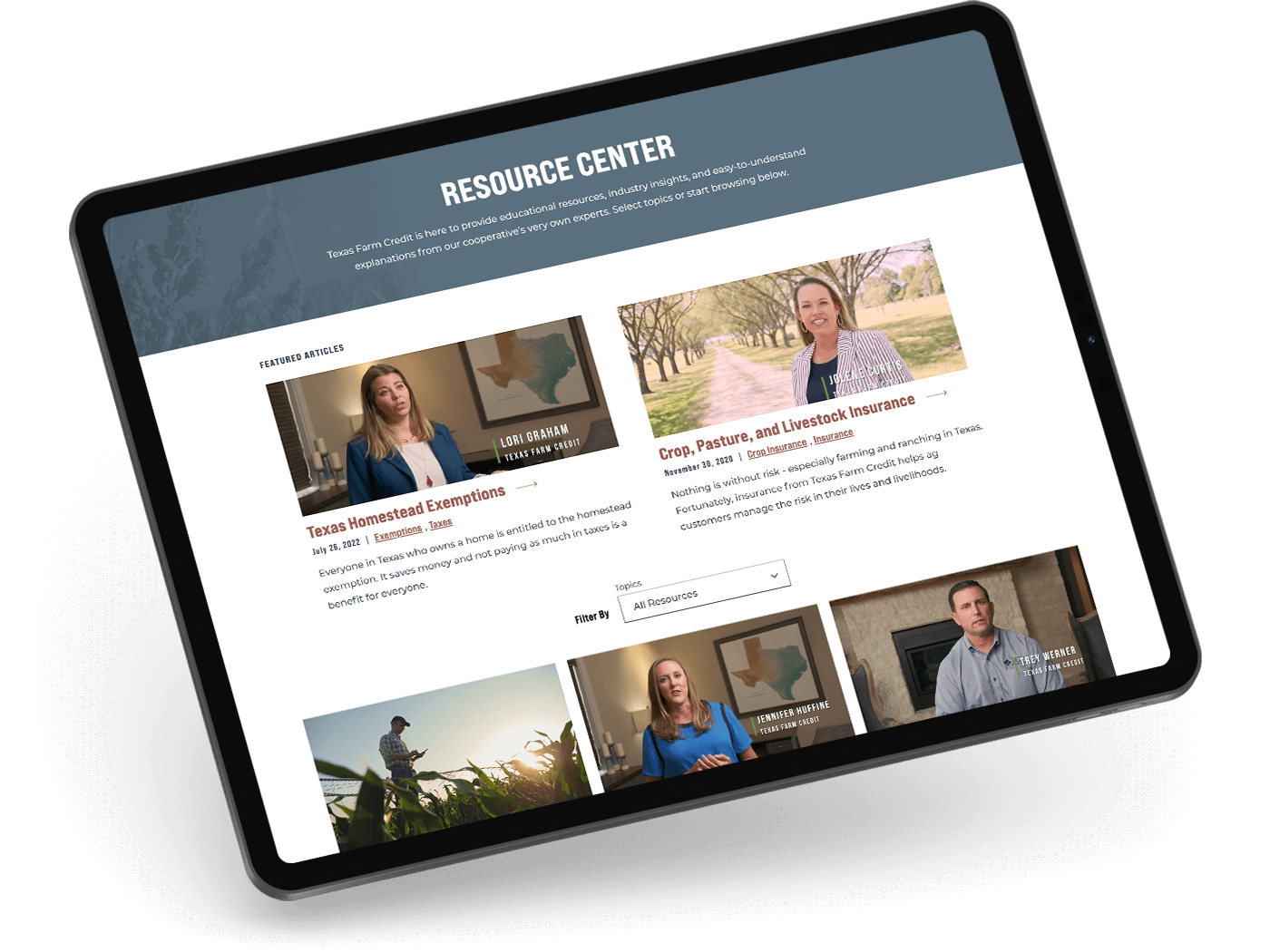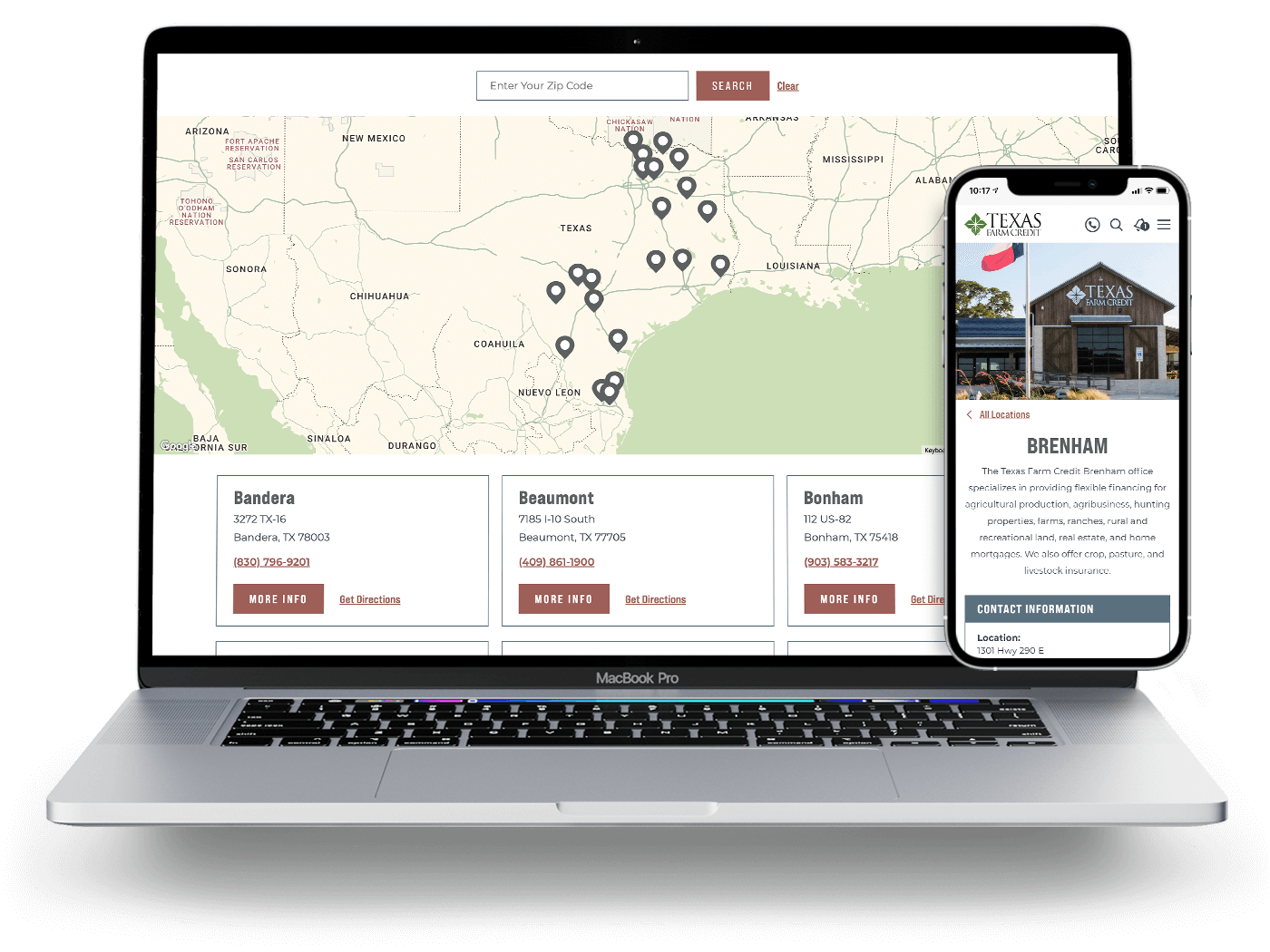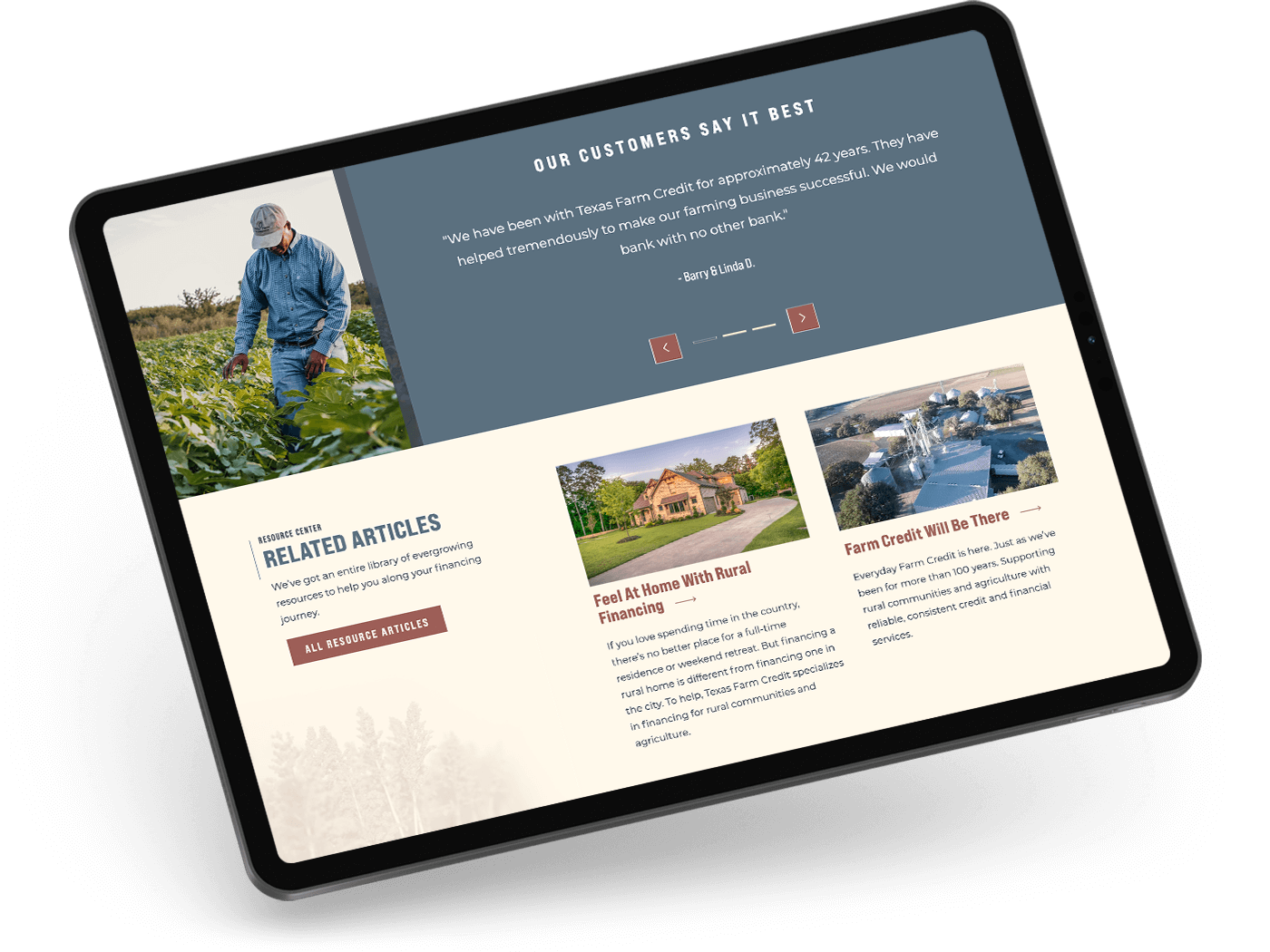 Goals
Brand Representation - Design a site that looks like velvet and smells like leather.
Brand Differentiation - Deliver an experience that separates Texas Farm Credit from other farm credit associations.
Intuitive User Experience - Build an intuitive, welcoming, and easy-to-use site that is attractive to users and provides easy-to-find answers for their financial needs.
Easy Content Management - Create a custom WordPress theme with simple and effective tools that streamline the internal management of countless resources and multiple locations.
WCAG AA Accessibility - Provide a more accessible, inclusive experience to serve a broader audience including equal access to content and financial resources.
Challenges
Credit Stigma - Texas Farm Credit isn't your typical lender
Farm Credit System - In a massive network of farm credit lenders, Texas Farm Credit needed to stand out from the herd.
Advanced Tools & Integrations - The site would need custom loan calculators, advanced forms for contests and scholarships, and deep integrations with 3rd party systems to round out the experience and guarantee the flow of new leads and opportunities.
Banking Level Security - The site and hosting infrastructure needed to pass strict security compliance and risk-assessments to meet/beat financial compliance.
New Domain Name - The Texas Farm Credit team wanted to swap out their primary domain name from texasfcs.com to texasfarmcredit.com and not lose search rankings, equity, or users along the way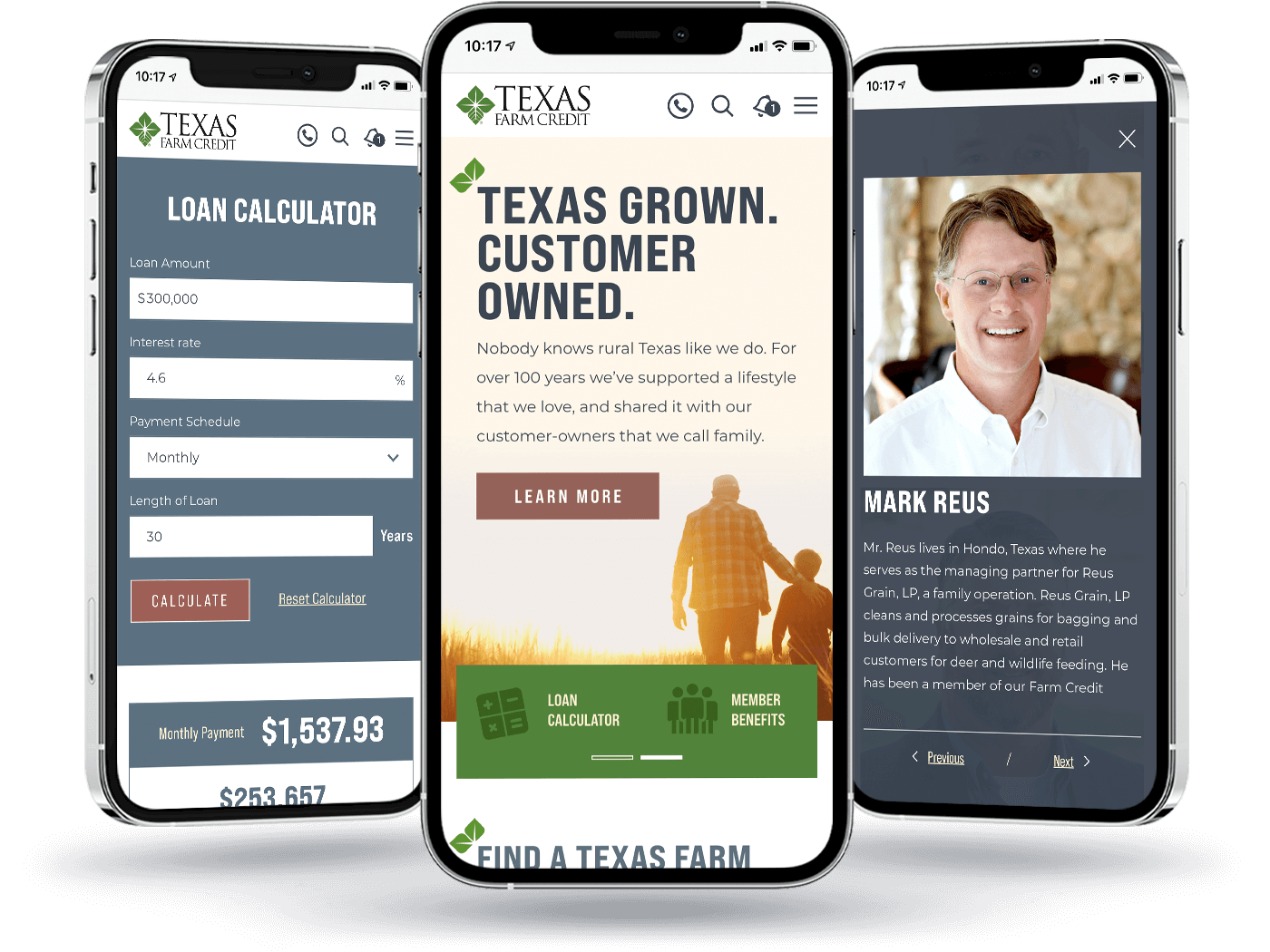 The Texas Farm Credit Digital Evolution
Monkee-Boy's Digital Diagnostic
To facilitate a comprehensive understanding of project objectives, grasp the unique needs of the organization & audiences, and analyze the competitive landscape, Monkee-Boy collaborated closely with the Texas Farm Credit Marketing & Operation teams. A clear view of the organization's current state and its envisioned destination were agreed upon, providing valuable insights and recommendations on how to elevate TFC's digital presence, deploy a new brand, and ensure a high level of inclusivity.
Throughout this collaborative process, the Monkee-Boy team generated formal project deliverables to establish a strong foundation for the project. Short & long-term priorities were captured and ranked. Analytics, content, competition, and technical needs were audited and organized. And, when consensus was quickly found, both teams gained a clear understanding of what needed to be explored during Monkee-Boy's Digital Strategy phase.
Full Digital Strategy
To explore the vision Texas Farm Credit was looking for, Monkee-Boy's guided the TFC team through detailed and flexible wireframes. Every aspect of how the experience would work for desktop and mobile users was explored. On approval, Monkee-Boy went to work applying the new brand in a fashion that emoted the desired feeling and emotion the TFC team knew would resonate with their audiences. Technical, design, accessibility, and content requirements were gathered and organized to facilitate a smooth project development consisting of 100's of pages, assets, and advanced user workflows.
Custom WordPress Development
Knowing full well the level of security required by financial institutions, Monkee-Boy brought its approach to building enterprise-grade WordPress websites to the table. A new, fully accessible, custom WordPress theme was developed and jam-packed with all of the horsepower and tools needed to empower the TFC team long-term. Coupled with Monkee-Boy's trusted content governance systems, custom content tools were built contextually around TFC's content, promotions, and programs which created a very intuitive system for their team to manage. The system was so easy-to-use in fact, the TFC team was trained and onboarded in <2 hours.
New Site. New Domain.
Not only did Texas Farm Credit want a new look & feel, but they also wanted an updated domain name as well - desiring to migrate from texasfcs.com to texasfarmcredit.com. With 25+ years of experience navigating website launches, domain name changes, and advanced redirect strategies, the Monkee-Boy team launched the new site at the new domain on Monkee-Boy's incredibly secure "WordPress Habitat" with zero downtime, zero drama, and zero users left behind.
Top Google Quality Scores
Website Performance
96
A 57% Increase
Best Practices
100
a 7% Increase
Accessibility
100
a 3% Increase
WCAG Level
AA
Accessibility Compliance
Ongoing Growth & Stability for Texas Farm Credit
Secure WordPress Habitat Hosting
After launch, Monkee-Boy's incredibly secure & trusted WordPress Habitat was used for ongoing enterprise-grade hosting that met or exceeded all of TFC's risk management team's requirements. Ongoing the organization knows that its website is in a safe place and protected from any bad actors.
WordPress Security & Health Checks
To add a layer of security coverage and reassurance that their digital investment is protected at all times, Texas Farm Credit relies on Monkee-Boy as their ongoing digital partner to proactively secure and safeguard it's online member experience each and every month.